Ruminant feed with orange leaves may reduce methane emissions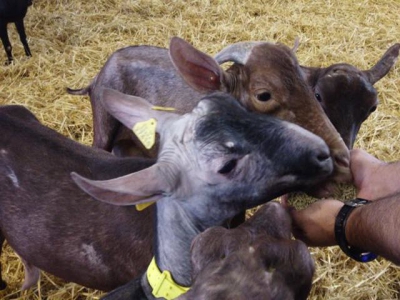 ---
Use of fruit and vegetable residues also reduces burning of byproducts in field.
Diet containing rice straw and citrus pruning reduces animal-generated methane emissions by 8% to 22%
Rice straw and citrus pruning remains may now have a new use as a ruminant feed after a team of researchers from the Universitat Politácnica de Valencia (UPV) in Spain developed ruminant diets from these fruit and vegetable wastes, according to a translated announcement.
Among its advantages, the use of new feed would help reduce the burning of these byproducts in the field as well as reduce the emissions of methane generated by animals, the researchers said.
The work is part of the European "Low Carbon Feed Project" (LIFE16/CCM/ES/000088). The initial results were published in the journal Animal Feed Science & Technology.
"In recent years, rice straw has been eliminated by controlled burning of crops. On the other hand, pruning remains of citrus crops – orange and lemon trees – are also removed by burning or crushing in green. All these practices cause large greenhouse gas emissions into the atmosphere," said Carlos Fernández, researcher at the UPV Institute of Animal Science & Technology responsible for the project at UPV.
The feed designed by UPV researchers reduced methane emissions by 8-22%, the announcement said. In addition to the residues of rice straw and citrus leaves, the feeds also incorporated other ingredients that guarantee that all of the animals' nutritional needs are met. Furthermore, the researchers noted that the feeds are useful because they revalue a byproduct.
"The 'Low Carbon Feed' diets have incorporated rice straw and orange and lemon leaf residues into the compound feed of ruminant animals. That is, these residues have not been used as a forage source but have been introduced as one more ingredient in the production of a compound feed," Fernández said.
The feed can be used for any population of ruminant animals (beef, sheep, goats, cebu, water buffalo, yaks, cervids, etc.) and even herbivores such as the family of camelids (dromedaries, camels, flame, alpacas, vicuña, etc.), UPV said.
"It is also a proposal that complies with one of the principles of a sustainable agricultural livestock system, the 3Rs — reuse, recycle and reduce — without harming or altering the production level of animals," Fernández said.
In addition to Fernández, the UPV team also included Tamara Romero, Pilar Molina and Nemesio Fernández from the Institute of Animal Science & Technology and José Vicente Martí, José Luis Palomares and Ion Pérez-Baena from the department of animal science.
---
Có thể bạn quan tâm
Stand out from the herd: How cows communicate through their lives
Research at the University of Sydney has shown that cows maintain individual voices in a variety of emotional situations.
26/12/2019

Researchers listen in on 'conversations' between calves and their mothers
Researchers have been eavesdropping on 'conversations' between calves and their mothers—measuring the process of how cows communicate using detailed acoustic
27/12/2019

Oregano extract may improve feeding rate, milk production in Jersey cows
Supplementing transitional Jersey cow diets with oregano extract may improve social behavior, feeding rate and dry matter intake along with production
31/12/2019
Sản phẩm khuyên dùng
Chất lượng vượt trội, bọt khí mịn, kháng khuẩn. Ống Nano-Tube là lựa chọn sục khí được ưa chuộng nhất trên thị trường để tăng cường oxy đáy trong ao nuôi tôm …
Sản phẩm khuyên dùng
Chất lượng hoàn toàn vượt trội, sử dụng hộp số giảm tốc vỏ gang, một trải nghiệm vô cùng mới. Oxy hoà tan cao, tạo dòng lưu thông mạnh giữ cho đáy ao luôn sạch.