Protecting marine environment decides sustainability for aquaculture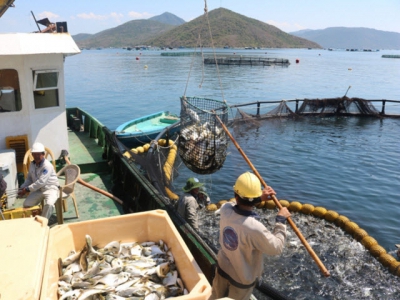 Tác giả:
Kim So - Minh Hau. Translated by Mai Tham
---
Localities need to develop concentrated areas for aquaculture, converting from traditional farming methods to industrial fish culture applying high technology.
It's necessary to raise fishermen's awareness of marine environmental protection toward a sustainable aquaculture industry.
This is one of the solutions suggested by Assoc. Prof. Dr. Vo Van Nha, Deputy Director of Research institute for aquaculture No.3 towards a sustainable aquaculture industry.
Fish cages spike with high stocking density
Phu Yen has the coastline of 189km and over 21,000ha of lagoon and bay water surface, a favorable condition for the development of seawater and brackish aquaculture and cage fish farming in the coastal waters, especially the open offshore sea is suitable for developing sustainable marine aquaculture.
According to the Department of Agriculture and Rural Development of Phu Yen province, sea pen and cage aquaculture has taken place here since 1990 and developed rapidly so far with more than 1,000 ha of water surface. Lobsters and sea fishes, some of the most important species have been grown in this system.
Particularly, lobster farming has taken place mainly in Xuan Dai Bay, Cu Mong Lagoon (Song Cau Town) and the open sea along the communes of An Ninh Dong, An Hoa, An Hai, An Chan (Tuy An district) and Vung Ro Bay (Dong Hoa town). The province has a total of around 78,220 lobster raising cages including 7,700 cages in Tuy An district, 13,645 cages in Dong Hoa town amd 56,875 cages in Song Cau town; the total lobster production reaches over 700 tons per year.
Phu Yen fishermen have a lot of experience in raising lobsters but aquaculture technology is still out of date and following traditional methods. Accordingly, cages are installed with iron frames surrounded by nets with size of 3m x 3m x 1.5m hung on rafts of plastic cans.
Raising rafts are made of bamboo or wood held by plastic drums floating on the water. Lobster seed is mainly imported from Philippines, Malaysia and Indonesia. Feed for lobster is rough fish crustaceans or mollusks. Caring and managing process is manual without environmental monitoring and measure equipment.
Because raising lobsters enhanced high economic efficiency, the market was stable, over the past five years thanks to easy imports of lobster seed, many individuals inside and outside the province spontaneously installed new cages resulting in dramatic increase of cages occupying most of area of Vinh Tu lagoon affecting the landscape and environment in the Bay.
Meanwhile, only few fish raising cages were coupled with lobster raising rafts in Xuan Dai Bay, Cu Mong Lagoon, O Loan Lagoon and open coastal water in Tuy An, Vung Ro. Cobia, grouper, seabass are the main species grown in the system. Raising technique is simple and mainly based on experience.
Traditional cages are simple and can be only installed in closed bays but cannot be applied in the open coastal water with gale force winds. Currently, some white leg shrimp farming areas are contaminated; therefore fishermen have switched to raise other species such as seaweed, snails, and crabs. In which, farming area of crab is 180ha, snail 102ha and seaweed 33ha with production of 150 tons, 750 tons and 200 tons respectively.
Khanh Hoa province also has huge potential for the development of sea aquaculture thanks to favorable natural conditions. The province has the coastline of 385km, 200 big and small islands, 1,660 kilometer squares of tide flooding area and a number of lagoons, bays with 400,000 kilometer squares of water surface (including Spratly Islands)
According to Khanh Hoa's Department of Agriculture and Rural Development, the province has about 4,000ha of aquaculture area with production of 16,000-18,000 tons per year. White leg shrimps, black tiger shrimps, sea fishes, snails, crabs are among some of the important marine species grown in the ponds. While lobster and other sea fishes are raised in sea cages and rafts. In which, lobster is a key species of marine aquaculture in the province. In 2020, the province had 60,647 cages with production of over 1,500 tons.
Cage farming aquaculture in lagoons and close bays with high stocking density took place for a long time resulting in environmental pollution. Especially, in Song Cau town (Phu Yen province), the contents of NH3, PO4, DO and Vibrio often exceed the permitted values of these indicators potentially posing risks and causing great damage to farmers and society in cases of environmental emergencies or disease outbreaks.
Converting from conventional aquaculture to industrial aquaculture
According to Assoc. Prof. Dr. Vo Van Nha, Deputy Director of Research institute for aquaculture No.3, water condition is an element directly affecting the growth of marine species. In particular, temperature, pH, DO (Dissolved Oxygen) and salinity are the main elements. Especially, NH3, NO2, H2S, heavy metals, pesticides are toxic chemicals.
Therefore, water quality is a crucially important element for aquaculture, determining economic efficiency through the use of feed, growth rate and survival rate of farmed species. Maintaining good quality water is essential for the survival and growth of farmed marine species. This is an important and decisive factor to the success of aquaculture, especially in intensive aquaculture.
Regarding the causes of environmental pollution, Assoc. Prof. Dr. Vo Van Nha said that there are many sources of pollution for example sewage from residential areas, industrial zones and agriculture as well as sewage from aquaculture.
Farming outside the planning area or unguaranteed infrastructure (especially sewage treatment system) combining with high stocking density pose high risks causing environment pollution. In addition, the use of chemicals not in the permitted list for disease prevention and environment treatment is extremely dangerous risks.
Therefore, in order to ensure environment surrounding farming area and sustainable aquaculture, Assoc. Prof. Dr. Vo Van Nha said that localities should establish and develop concentrated areas for aquaculture, converting from traditional farming to industrial farming applying high technologies.
Besides, it is possible to expand the farming area to open seas, offshore waters where water depth is great, eliminating spontaneous aquaculture regions, tightening management and licensing of sea aquaculture.
At the same time, it's necessary to strengthen the prevention and control of environmental pollution and degradation in concentrated aquaculture areas, minimizing the risk of disease outbreaks on farmed marine species.
As for farmer, it's necessary for them to actively and boldly invest in technologies, efficient production process avoiding harms to environment (biosecurity model without using chemicals, antibiotics, biofloc model, VietGAP); paying attention to disease prevention and control on farmed marine species. Especially, paying attention to biosecurity methods, being aware of environmental protection in aquaculture.
According to Assoc. Prof. Dr. Vo Van Nha, in order to protect aquaculture farming areas, it's necessary to improve the quality of monitoring and forecasting of aquaculture environment, maintaining and developing the monitoring sites.
Reporting and sharing information of monitoring and warning of aquaculture environment, especially applying information technology in this activity. In addition, it's important to expanding effective aquaculture model limiting impacts on environment.
Managing and controlling the use of chemicals, antibiotics, finding alternative solutions in aquaculture. Strengthening the management of waste collection and treatment in aquaculture...
---
Có thể bạn quan tâm

Paving the way to tackle proliferative kidney disease in aquaculture
New research from the University of Aberdeen could allow the development of drugs and vaccines to treat a disease that is rapidly emerging in aquaculture
22/04/2021

Cargill outlines ambitious carbon reduction goals for aquaculture
A new initiative that aims to help aquaculture operators reduce their carbon footprints has been launched by Cargill today.
22/04/2021

Waste collection in aquaculture is urgent to conserve aquatic resources
The collection of waste in aquaculture is very necessary and urgent in order to gradually improve the environment in the farming area and conserve the aquatic
07/09/2021
Sản phẩm khuyên dùng
Chất lượng vượt trội, bọt khí mịn, kháng khuẩn. Ống Nano-Tube là lựa chọn sục khí được ưa chuộng nhất trên thị trường để tăng cường oxy đáy trong ao nuôi tôm …
Sản phẩm khuyên dùng
Chất lượng hoàn toàn vượt trội, sử dụng hộp số giảm tốc vỏ gang, một trải nghiệm vô cùng mới. Oxy hoà tan cao, tạo dòng lưu thông mạnh giữ cho đáy ao luôn sạch.