Cargill outlines ambitious carbon reduction goals for aquaculture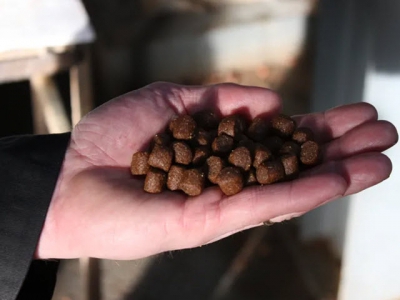 ---
A new initiative that aims to help aquaculture operators reduce their carbon footprints has been launched by Cargill today.
Cargill aims to reduce the aquaculture sector's CO2 emission's by two billion kilograms by 2030
Called SeaFurther Sustainability, it aims to save two billion kilograms of CO2 by 2030, which is the equivalent of removing more than 400,000 cars from the road.
"With SeaFurther Sustainability we are charting a new bold course, one that makes aquaculture better for our planet," said Pilar Cruz, president and group leader for Cargill Aqua Nutrition. "Seafood consumption is rising globally. We want to meet that demand; increasing production while decreasing environmental impact. By working closely with farmers to source sustainable ingredients, improve farm productivity and ensure fish welfare, Cargill is redefining aquaculture's role in helping the world thrive."
The programme will start with salmon farmers.
"We are excited to see a clear commitment from Cargill that is focused on the needs to reduce the environmental footprint of salmon," said Stian Amble, biology and quality advisor at Nova Sea. "Delivering more sustainable aquaculture will require the value chain to align on key goals and work together to deliver on them. By agreeing on the value of the changes that are required, we can deliver true transformation to become more sustainable more quickly and at greater scale."
Through SeaFurther Sustainability, Cargill aims to reduce the footprint of farmed salmon 30 percent by 2030. Today, feed represents up to 90 percent of a salmon's environmental footprint. To reduce this climate impact the initiative is focused on:
Working closely with suppliers to grow responsibly-sourced ingredients and supply chains while finding ways to reuse by-products, like fish trimmings, that would normally be discarded. The company also strives to identify and source novel ingredients that create even more sustainable feed, helping customers and partners achieve shared sustainability goals.
Utilising its extensive aquaculture feed experience, it aims to help farmers increase efficiency and maximise production while decreasing their impact on the planet.
Safeguarding the welfare of farmed fish by providing feeds that protect and promote animal health, reducing the use of resources and the impact on the ocean at large.
While the company is starting with salmon, SeaFurther will expand, with an intent to add other species, like shrimp, in the near future.
In 2020, Cargill partnered with BAR Technologies to bring their WindWings - large, solid wing sails that measure up to 45 metres in height - to the deck of bulk cargo ships to harness the power of the wind and reduce CO2 emissions by as much as 30 percent.
SeaFurther joins a range of Cargill's strategic partnerships, investments, research and technologies aimed at protecting oceans. The company is involved in plans to reduce the environmental impact of global bulk shipping in line with the International Maritime Organization's target to reduce decarbonise shipping by at least 50 percent by 2050.
"The health of the world's salmon is ultimately linked to the health of our oceans," said Jan Dieleman, president of Cargill's ocean transportation business. "Large-scale carbon reduction requires commitment across the global supply chain and we're working with partners to develop solutions to reduce our impact on the environment. As one of the world's largest vessel charterers, Cargill continues its push to reduce emissions and raise industry standards."
Since the end of 2019, the company has installed around $3 million of energy saving equipment onboard some of its long-term charter vessels. Cargill is also a strategic partner of ZeroNorth, a tech start-up that provides digital tools that improve vessel performance and reduce fuel consumption.
Fixing WindWings onto container ships could reduce their CO2 emissions by up to 30 percent. Photo: BAR Technologies
In 2020, Cargill partnered with BAR Technologies to bring their WindWings - large, solid wing sails that measure up to 45 metres in height - to the deck of bulk cargo ships to harness the power of the wind and reduce CO2 emissions by as much as 30 percent.
"Cargill has an opportunity to drive real, positive climate impact for people and the planet," said Cruz. "With our global footprint and view across supply chains, sustainable oceans and sustainable seafood can become a reality if we are all in, partnering with farmers, working across the industry and pulling in the same direction."
---
Có thể bạn quan tâm

Warning of organic pollutants from aquaculture
The stocking areas of farm-raised shrimps have reached 708,436 ha, equal to 102% of the same period last year. The white leg shrimp farming area
15/01/2021
Can probiotics solve aquaculture's water pollution issues?
Multiple studies have shown that bacillus probiotics can help aquaculture producers improve fish health and performance – but can probiotics help address water
02/02/2021

Paving the way to tackle proliferative kidney disease in aquaculture
New research from the University of Aberdeen could allow the development of drugs and vaccines to treat a disease that is rapidly emerging in aquaculture
22/04/2021
Sản phẩm khuyên dùng
Chất lượng vượt trội, bọt khí mịn, kháng khuẩn. Ống Nano-Tube là lựa chọn sục khí được ưa chuộng nhất trên thị trường để tăng cường oxy đáy trong ao nuôi tôm …
Sản phẩm khuyên dùng
Chất lượng hoàn toàn vượt trội, sử dụng hộp số giảm tốc vỏ gang, một trải nghiệm vô cùng mới. Oxy hoà tan cao, tạo dòng lưu thông mạnh giữ cho đáy ao luôn sạch.