Viet Nam seafood has potential in China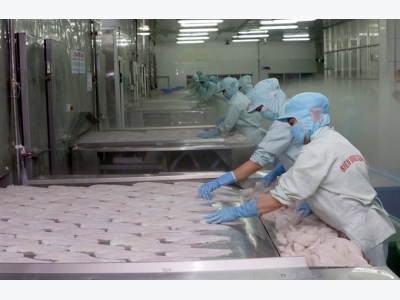 ---
Tra fish being processed by workers at Biển Đông Seafood Co in the southern city of Cần Thơ. — VNA/VNS Photo Thanh Liêm
HCM CITY — With the largest population in the world and an increasing affluent one, China is a lucrative market for Vietnamese seafood products.
But the market also comes with potential risks and unpredictability, requiring Vietnamese firms to be cautious when exporting there, a conference heard in HCM City on August 30.
Lê Hằng, deputy director of the VASEP (Việt Nam Association of Seafood Exporters and Producers) Training and Trade Promotion Centre, told "China Seafood Market: Potential for Việt Nam's Suppliers" that fisheries exports to China soared from US$152 million in 2007 to $860 million last year.
Shrimp and tra fish saw the strongest increase, but continue to have the potential for double digit growth rate in the coming years, she said.
Chinese are increasingly eating more fish than meat, while local output from aquaculture and fishing is shrinking, offering Vietnamese exporters a good opportunity, she said.
But the market also has risks, she warned.
China could tighten hygiene, food safety and quarantine regulations, she said.
Yang Yong, chairman of GuangZhou Nutriera Biotechnology Co Ltd, said Chinese consumers are increasingly looking at product quality, safety and convenience.
Brands are one of the key factors for them in choosing a product, and are willing to pay 20-30 per cent more, he said.
Therefore, Vietnamese exporters could increase processing to make products more convenient or nutritious for Chinese consumers, he said.
For instance, Vietnamese firms could add vegetable extracts to tra fish to increase the omega-3 content or additives to improve flavour, he said.
Hằng said Chinese consumers' tastes change rapidly and so producers must keep a close eye on the market to come up with appropriate products.
Nguyễn Phú Hòa, deputy director of the Ministry of Industry and Trade's Foreign Trade Department, said Vietnamese companies should export products that meet US and Japanese standards and have strategies to build their brands in China.
Trương Tuyết Hoa of Vĩnh Hoàn Corporation said her company's tra fish exports to China have increased sharply.
Chinese importers have diverse demands in all segments, and her company focuses on processed products and products with high added value, she said.
Many importers send chefs to her company's factory to adjust the spices to make the products suitable for Chinese palates, she said.
To avoid risks, her company does not sell through the border with China and only supplies goods after getting the payment, she added.
Việt Nam shipped $749 million worth of aquatic products abroad in August, bringing the total in the first eight months of 2017 to $5.13 billion, up 18.1 per cent from the same period last year.
According to the Ministry of Agriculture and Rural Development, the largest buyers of Vietnamese aquatic products included the United States, Japan, China and the Republic of Korea, accounting for 55.6 per cent of total exports.
Export value to China showed the biggest increase of 57.2 per cent, followed by Japan (30.8 per cent), the United Kingdom (30.1 per cent), the RoK (28.8 per cent), the Netherlands (25.3 per cent) and Canada (20.7 per cent).
---
Có thể bạn quan tâm
Businesses optimistic over US inspection of Vietnam's tra fish
The US Department of Agriculture (USDA) has decided to check all shipments of catfish and tra fish imported from Vietnam as of August 2
01/09/2017

Seafood exporters set for good year
Seafood exports in the second half of the year are expected to rise by 11 per cent to US$4.46 billion
05/09/2017

Việt Nam aims to boost export of shrimp to Asia
Asia will be a new market for Việt Nam's shrimp industry in the future.The country's significant growth in shrimp exports to China, South Korea, Japan and ASEAN
05/09/2017
Sản phẩm khuyên dùng
Chất lượng vượt trội, bọt khí mịn, kháng khuẩn. Ống Nano-Tube là lựa chọn sục khí được ưa chuộng nhất trên thị trường để tăng cường oxy đáy trong ao nuôi tôm …
Sản phẩm khuyên dùng
Chất lượng hoàn toàn vượt trội, sử dụng hộp số giảm tốc vỏ gang, một trải nghiệm vô cùng mới. Oxy hoà tan cao, tạo dòng lưu thông mạnh giữ cho đáy ao luôn sạch.