SBRC Inaugurates Worlds First Facility to Grow Both Food and Fuel in the Desert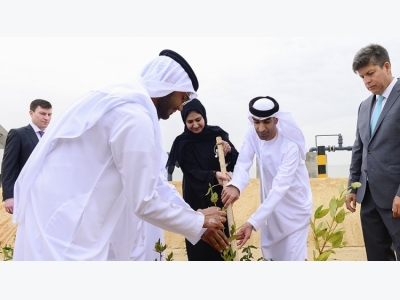 Tác giả:
Masdar Institute
---
SBRC officials and guests participate in mangrove plantation at the new SEAS facility. From right: Dr Alejandro Rios G., SBRC Director, HE Dr. Thani Ahmed Al Zeyoudi, UAE Minister of Climate Change and Environment, Dr. Behjat Al Yousuf, Interim Provost, Masdar Institute, and Mohammed Al Ghailani, student at Masdar Institute
Research puts UAE at center of global movement to sustainably – and simultaneously – harvest food and feedstock for bioenergy
The world's first research facility to grow both food and fuel, using desert lands irrigated by seawater, began operations today on a 2-hectare site in Abu Dhabi, United Arab Emirates. Operated by Masdar Institute, the facility, is funded by the Sustainable Bioenergy Research Consortium (SBRC), a group advancing the aviation industry's commitment to reduce its carbon emissions by developing a clean, sustainable and alternative fuel supply.
"We live in a resource-constrained world where the access to energy, water and food are interlinked," said Dr. Behjat Al Yousuf, Interim Provost of Masdar Institute, a research-based university in Abu Dhabi, and a founding member of SBRC. "Public-private collaboration to support cutting-edge research is needed to ensure that rising populations and industry can flourish sustainably, while, at the same time, also protect our finite resources. This project has the potential to turn resource scarcity on its head."
"By doing research on integrated food and energy systems, we can begin to explore how the cultivation of biomass contributes to feeding the planet, preserving fresh water supplies and delivering cleaner, more sustainable fuels," said Dr. Al Yousuf. "This research is very relevant for the UAE and all freshwater- and arable land-constrained countries."
Aquaculture – industrial fish or shellfish farming – is one of the world's fastest expanding food sectors, with a current growth rate of about 6% a year. While aquaculture systems can reduce a nation's dependence on foreign food and improve security, they pose environmental challenges due to the impact of nutrient-rich effluents flowing into the ocean. The SBRC tackles these concerns and is seeking to minimize the footprint of commercial farming practices.
The research facility uses coastal seawater to raise fish and shrimp for food, whose nutrient-rich wastewater then fertilizes plants rich in oils that can be harvested for aviation biofuel production. The salt-tolerant halophyte plants – whose commercial potential is relatively unexplored – thrive in arid, desert conditions and don't require fresh water or arable land to grow. In the last step of the system, the wastewater is diverted into a cultivated mangrove forest, further removing nutrients and providing valuable carbon storage, before the naturally-filtered and treated effluent is discharged back into the sea.
"With more than 30 million commercial flights flown worldwide each year, the aviation industry is committed to reducing its carbon footprint, and sustainable biofuel technologies are a critical part of the solution," said Marc Allen, President, Boeing International. "The aquaculture and biomass facility in Abu Dhabi holds tremendous promise to turn the 25.5 million square kilometers of desert and arid areas of the world into productive farmland, supporting both food security and cleaner skies."
Masdar Institute, together with Etihad Airways, Boeing and Honeywell UOP, were the founding members of SBRC. Takreer, the Abu Dhabi oil refining company, along with Safran and GE Aviation, have since joined the research group.
"As the global demand for jet fuel continues to grow, we see a significant business opportunity to refine and produce sustainable aviation biofuels," said Jasem Ali Al-Sayegh, CEO of Takreer, the Abu Dhabi oil refining company. "The UAE is also uniquely able to create the supply chain and infrastructure needed – from research, production and refining – to fuel airplanes with bioenergy grown in our own backyard."
More than 2,000 commercial flights have used sustainable aviation biofuel blended with conventional petroleum since renewable jet fuel was approved for commercial use in 2011.
"This breakthrough research places Abu Dhabi at the center of a global movement to advance technology that supports the sustainable production of food and bioenergy," said James Hogan, CEO of Etihad Airways. "The commercialization of aviation fuels – cleaner, superior-performing fuels – is a critical step toward balancing our industry's dependency on fossil fuels, while also incubating innovation that may have profound global implications to address energy, water and food security."
The goal of the research facility is to demonstrate the viability of an integrated bioenergy production system with respect to essential food and fuel production, suitable land use, reduced carbon emissions and wastewater clean-up. If the technology proves viable at this smaller-scale, further scale-up will continue with the ultimate ambition to scale up to a 200-hectare site that has been selected along the Abu Dhabi Western Region coast.
---
Có thể bạn quan tâm

Masdar trials desert fish farms and biofuels grown with seawater
The world's first research facility aimed at finding a way to grow food as well as biofuels using desert land irrigated with seawater has opened in Abu Dhabi.
27/06/2017

Biofuels from Saltwater Crops
Researchers at the Masdar Institute in the United Arab Emirates are starting a two-square-kilometer demonstration farm that will combine fish and shrimp farming
27/06/2017

World's first farm to grow food and fuel in the desert opens in Abu Dhabi
The world's first research facility to grow both food and fuel just opened in the United Arab Emirates. Located on a 2-hectare site in Abu Dhabi
27/06/2017
Sản phẩm khuyên dùng
Chất lượng vượt trội, bọt khí mịn, kháng khuẩn. Ống Nano-Tube là lựa chọn sục khí được ưa chuộng nhất trên thị trường để tăng cường oxy đáy trong ao nuôi tôm …
Sản phẩm khuyên dùng
Chất lượng hoàn toàn vượt trội, sử dụng hộp số giảm tốc vỏ gang, một trải nghiệm vô cùng mới. Oxy hoà tan cao, tạo dòng lưu thông mạnh giữ cho đáy ao luôn sạch.