Restorative aquaculture: can farming shellfish and seaweed provide habitat benefits?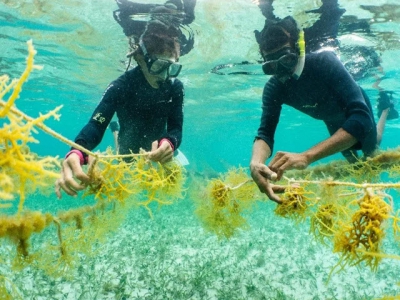 Tác giả:
Robert Jones - Chunyue Wei
---
While aquaculture is often associated with degrading water quality, invasive species introductions and the destruction of important coastal habitats, increasing evidence suggests that well-designed and managed aquaculture – particularly of shellfish and seaweeds – can provide ecosystem services including habitat benefits for fish and other marine life.
Divers check on seaweed lines at farm in Placencia, Belize. Photo © Randy Olson
Working alongside key partners around the world, The Nature Conservancy is combining global-scale synthesis science and on-the-ground projects that address remaining scientific questions around the habitat value of shellfish and seaweed aquaculture. With this information, we aim to inform the strategic development of sustainable aquaculture in a manner that aids in ecosystem recovery, rather than causing ecological harm.
Assessing shellfish equipment's impact on undersea habitat in Washington State and Massachusetts
Among all the ecosystem services provided by shellfish aquaculture, its role in providing nursery habitat for fish is one of the least understood. TNC is working with local partners to fill critical knowledge gaps on both coasts of the United States. In the Puget Sound in Washington State, and at Duxbury and Cotuit harbours in Massachusetts, we are collaborating with private shellfish farmers and scientific partners, using GoPro cameras to analyse the ways in which fish make use of shellfish farms. This allows us to record videos of how fish and other marine species are using the farm gear, and these are then analysed by researchers from the National Oceanic and Atmospheric Association (NOAA) to compare the abundance of fish, crabs and other species in shellfish farms with their prevalence in unfarmed habitats. By bringing together scientists, farmers and other key stakeholders to engage in on-the-ground collaborative scientific research on commercial farms, these studies are providing new insights into the habitat provided by shellfish farms.
Understanding the interactions between seagrass and shellfish aquaculture in California
In California, 90 percent of eelgrass habitat has been lost since the 1850s. Concern over aquaculture's potential impacts on this critically important habitat is a primary regulatory issue for shellfish aquaculture in the state. Contrary to these perceptions, in certain situations oyster growers have observed eelgrass actually expanding into adjacent shellfish farms and growing on and around the gear. In Tomales Bay, the Hog Island Oyster Co, the University of California, Santa Cruz, and TNC are using aerial drones as a cost-effective way to monitor eelgrass growth and assess the positive and negative impacts of shellfish aquaculture operations on this ecosystem. One hypothesis we are investigating is whether increased light penetration, fuelled by oyster water filtration and/or nutrient deposition from oysters, is contributing to eelgrass growth around oyster farms. With its collaborative efforts from industry and scientific institutions, this project could help fill knowledge gaps in seagrass-shellfish interaction and create opportunities to develop shellfish farms in ways that actively foster eelgrass growth. Additionally, the team is creating a drone-monitoring protocol that can be used directly by industry or other citizen scientists to monitor tidal flats and eelgrass habitat over time.
An aerial image of Hog Island Oyster Company's farm. Photo © Torrey Johnson
The habitat benefits of seaweed farms in Belize
Elsewhere in the Americas, fishery-reliant coastal livelihoods in Belize are under increasing pressure as fish stocks decline. Initially aimed at providing supplemental livelihoods for fishers, seaweed aquaculture has also been found to provide crucial nursery grounds for juveniles of multiple species, including important fishery species – lobster and conch. TNC is pioneering ecological research at two pilot seaweed farms (Hatchet Caye and Little Water Caye) to investigate the potential of seaweed aquaculture in restocking wild populations of ecologically and commercially important species. The results of ecological monitoring show that seaweed farms can enhance fish and macrofaunal abundance and biodiversity, with greater benefits being shown over unstructured sandy-bottom habitats versus seagrass habitats. This research could help address the key questions around how and under what conditions seaweed farming could provide habitat benefits.
Shellfish farms can provide habitat enrichment for a range of aquatic species. Photo © TNC
Global-scale synthesis science
On-the-ground research is providing evidence on shellfish and seaweed aquaculture's habitat value for different species, and two recent synthesis studies authored by TNC scientists and partners (Alleway et al. 2019, Gentry et al. 2019) have identified work around the world that documents a diversity of ecosystem services from aquaculture. Among all the ecosystem services provided by shellfish and seaweed aquaculture, however, their role in providing habitat is still one of the least understood. The limited amount of existing literature also showcases considerable variability regarding the impacts of aquaculture on habitats, dependent upon a number of factors.
Our future efforts will take a more in-depth look at the habitat benefits of shellfish and seaweed aquaculture. In addition to quantifying habitat benefits based on existing literature, we are also working to understand the ecological processes and mechanisms whereby aquaculture can provide the enabling conditions for these benefits to flourish. To ensure the delivery of habitat value, it is important to understand the synergies and trade-offs between various habitat impacts at different scales, and how these impacts are dependent on the interaction of multiple factors, such as the species being cultivated, the siting of the farm, cultivation intensity and the equipment being used.
Ultimately, the scientific knowledge accumulated from field projects and global-scale synthesis science work will enhance our collective ability to develop shellfish and seaweed aquaculture in a way that can benefit both people and nature. Guided by science, we are on our way to advancing the potential of restorative aquaculture: providing sustainable food sources, improving coastal economies and aiding in habitat restoration.
---
Có thể bạn quan tâm

Climate lessons could inform antibiotic resistance challenge
Rising antimicrobial resistance could be curbed with framework inspired by climate change targets.
19/11/2019

Study suggests antibiotic use alters soil response to manure application
Soil microbiome and ecosystem functions found to respond to exposure to manure from cattle administered an antibiotic.
20/11/2019

Algae detection system aims to help aquaculture bloom
A Scottish consortium is developing an early-warning detection system for potentially dangerous plankton and algae, which could help the aquaculture industry
22/11/2019
Sản phẩm khuyên dùng
Chất lượng vượt trội, bọt khí mịn, kháng khuẩn. Ống Nano-Tube là lựa chọn sục khí được ưa chuộng nhất trên thị trường để tăng cường oxy đáy trong ao nuôi tôm …
Sản phẩm khuyên dùng
Chất lượng hoàn toàn vượt trội, sử dụng hộp số giảm tốc vỏ gang, một trải nghiệm vô cùng mới. Oxy hoà tan cao, tạo dòng lưu thông mạnh giữ cho đáy ao luôn sạch.