Fish exporters aim to crack Europe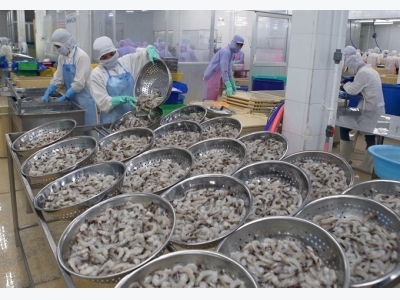 ---
A shrimp processing line at Cửu Long Frozen Shrimp Export Company in southern Trà Vinh Province. — Photo Vũ Sinh
HÀ NỘI — The Vietnam Association of Seafood Exporters and Producers (VASEP) is showcasing Vietnamese seafood products at the Seafood Expo Global, which is being held in Brussels, Belgium, from Tuesday to Thursday.
In a 264sq.m. booth, the association introduced Việt Nam's seafood specialties, including tra fish (known as pangasius), shrimp, tuna and tilapia fish, as well as cattle fish, octopus and dried seafood products, all of which come from 25 Vietnamese seafood producers and exporters.
The pavilion attracted foreign businesses, which shared experiences in trading aquatic and seafood products.
In the context of a pangasius crisis in Spain and the Carrefour supermarket chain ceasing to sell Vietnamese pangasius, VASEP and the Ministry of Agriculture and Rural Development held a press conference at the exhibition to provide clear information about Việt Nam's pangasius processing and exports to European partners.
In his interview with Vietnam News Agency correspondents, VASEP general secretary Trương Đình Hòe said the press conference aimed to create a correct information channel to deal with the communication crisis on pangasius, targeted at increasing exports of Vietnamese aquatic and seafood products to Europe.
Alfons van Duijvenbode, a Dutch consultant, said European consumers have a bad impression of Vietnamese pangasius due to false information on social media.
In recent years, the consumption of Vietnamese pangasius has fallen in the EU, meanwhile other fish have maintained or even increased sales volum, he said.
He suggested the Vietnamese aquaculture industry interact more with consumers to provide them exact information about the products.
Head of Vietnamese Trade Office in Belgium Nguyễn Cảnh Cường said that the office had worked with local partners such as Foreign Trade Association to provide information to Belgium businesses and consumers.
Also at the event, Việt Nam held other trade promotion activities, including a dialogue for shrimp value chains and a programme for visitors to try Vietnamese seafood.
Seafood Expo Global, the largest of its kind globally, drew the participation of over 1,600 exhibitors from 77 countries and territories this year. It is expected to attract more than 26,000 visitors and exporting and trading enterprises from 144 nations and territories
---
Có thể bạn quan tâm

Export, import values grow in first quarter
In the first three months of 2017, the value of Vietnamese exports reached an estimated US$43.7 billion, up 12.8 percent compared with the same period last year
28/04/2017

Vietnam attempts to restore prawns in Australian market
Shrimp farm owners suspected viruses entering Australia from imported products from infected areas abroad, but the cause of the outbreak
06/05/2017

Vietnamese aquatic products strive to regain confidence in Europe
Vietnam is taking part in the 25th Seafood Expo Global in Brussels, Belgium, aiming to convey the diversity and quality of Vietnamese aquatic products
06/05/2017
Sản phẩm khuyên dùng
Chất lượng vượt trội, bọt khí mịn, kháng khuẩn. Ống Nano-Tube là lựa chọn sục khí được ưa chuộng nhất trên thị trường để tăng cường oxy đáy trong ao nuôi tôm …
Sản phẩm khuyên dùng
Chất lượng hoàn toàn vượt trội, sử dụng hộp số giảm tốc vỏ gang, một trải nghiệm vô cùng mới. Oxy hoà tan cao, tạo dòng lưu thông mạnh giữ cho đáy ao luôn sạch.