Field peas and the future of farming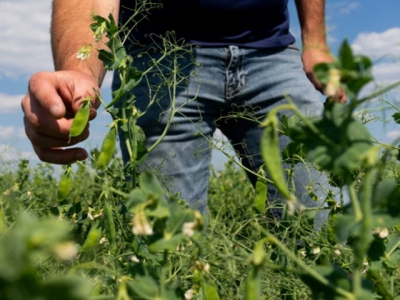 ---
Securing the future of food, a constant weight on the food and agriculture industry, has always been core to the mission of Puris.
The pea (Pisum sativum L., 1753) is an annual herbaceous plant, native to the Mediterranean and Eastern area and belonging to the Fabaceae family. Photo: Antropocene
Puris isn't a fresh-faced start-up in the industry — it launched in 1985 with innovative non-GMO seed breeding by Jerry Lorenzen — but its transformation into the company it is today began in 2014 with the launch of the company's now-signature Puris pea protein product.
Puris' yellow field peas and other seeds naturally bred by the company are the foundation for its future. As consumers ask for new and varied foods to eat, Puris answers with a spectrum of organically grown, plant-based ingredients made from peas, soy, lentils, and corn. Puris provides pea protein to the leading food brands in nearly every category.
The system begins with the American farmer.
WEEKS FARMS
Ryan Weeks farms in south-central Nebraska and raises yellow corn, popcorn, white corn, peas, barley, wheat, sorghum, and soybeans. Weeks is the fifth generation in his family to farm, and he began converting from conventional to organic in 2015. Now, Weeks Family Farms is about 80% organic across the operation.
"Our family has always been out of the box in our farming; we've been early adopters of technology, no-till, and other practices, but we have always been conventional corn and soybean, so organic wasn't on our radar until I had a friend tell me we should consider it," Weeks recalls. "After I did some research of my own, we decided to try it on 240 acres."
Weeks says initially the decision was based on financials; he saw organic production as a way to drive revenue to the farm. After the first year's success on those 240 acres, he realized how much he enjoyed the challenge of growing a variety of crops with equivalent yields to conventional.
He also enjoys a closer connection to the consumer and to neighboring organic farmers.
Even with that satisfaction, one of the most difficult challenges for Weeks and others in the transition to organic farming is insurance coverage.
In 2019, Weeks started working with Puris by growing 23 acres of peas. To secure insurance on peas in his county, he could take out only hail insurance and planned to negotiate with an insurance company in the future after some years of proven success.
But in 2021, Puris announced a private yield coverage program on contracted acres that provides protection to farmers.
"The program uses a database of yields in our area and gives us an affordable, underlying, multi-peril policy that is key, and we expanded our acres because of it," Weeks says.
Jordan Atchison, president of Puris Grains, says the program launched in response to increased interest from growers in various regions of the United States that did not have a history of yellow pea crops.
Without a history of the crop, federal crop insurance doesn't apply and leaves farmers without a safety net.
"We found that if we could develop a program to help new producers of yellow field peas out of the gate and help them get coverage on all their inputs, then it would allow us to contract not only in different areas but with new producers," Atchison says.
As year two of the Yield Coverage program approaches, even more growers can enroll and benefit from the crop protection.
FUTURE OF FOOD AND FARMING
Giving farmers the opportunity to capture the plant-based foods market is another core value for Puris.
"As plant-based becomes more prevalent, there are different opportunities for farmers to grow chickpeas, lentils, or different grains and legumes across the country that they didn't have before," Atchison says.
Puris CEO Tyler Lorenzen, son of founder Jerry Lorenzen, says pea protein plays a critical role in soil, human, and planetary health. The Puris team continues to scale the supply chain to meet the needs of all stakeholders and has accepted investment from Cargill to further its work.
In August 2019, Cargill invested $75 million in the company to build a new pea processing facility in Dawson, Minnesota.
"Cargill believes in our vision, our story, and our future," Lorenzen says. "Their support helps us build a new facility that will make us the largest manufacturer of plant-based protein in North America. As the largest market for pea protein is also here, it's critical because we can buy more peas from our farmers in the states."
From Weeks' perspective, feeding the world means accommodating different interests, experiences, and demographics. "There are a lot of people in this world, so if we can make something from pea protein or soy protein that satisfies that protein need in their diet, and we can grow it on our farm, then we can be profitable and support the future."
PROTEIN IN PEAS
The Foundation for Food & Agriculture Research (FFAR) awarded a grant of $1.2 million to North Dakota State University in August. According to FFAR, protein is 22% of current pea varieties' makeup and additional research and experimentation could lead to an increase of 12%.
The NDSU research team, led by Nonoy Bandillo, will use genetic information to maximize breeding efficiency and speed up the development of future pea varieties. Benson Hill, KeyGene, NDSU, and Syngenta also provided funds for the grant.
FARM-TO-FORK INNOVATION
Cargill and Ecolab partner with the Techstars Farm to Fork Accelerator to provide early-stage start-up companies with funding, mentorship, and connections intended to push their development forward, fast.
The companies accepted to the accelerator have solutions for the future of food and agriculture. Since its launch in 2017, more than 30 ag tech and food tech start-ups have participated in its investment program, including:
3DIMO, a cloud-based herd management platform and marketplace for sale of livestock.
Big Wheelbarrow, whose software enables wholesale food buyers to find and work with local producers.
FeedX, an online marketplace for the animal feed industry.
---
Có thể bạn quan tâm

Growing leeks in your garden
Most people associate leeks with soup. For this reason, many of my farmer clients grow them only for inclusion in winter soup packs. But leeks have many other
11/02/2020

Utilizing old dragon fruit branches to compost bio-organic fertilizer
The Southern Horticultural Research Institute has introduced a new bio-organic fertilizers composting process utilizing discarded dragon fruit branches.
13/01/2022

How to grow hydroponic lettuce - Instructions and plant care tips
There's a reason why lettuce is one of the most popular hydroponic crops for both beginners and experts alike.
25/01/2022
Sản phẩm khuyên dùng
Chất lượng vượt trội, bọt khí mịn, kháng khuẩn. Ống Nano-Tube là lựa chọn sục khí được ưa chuộng nhất trên thị trường để tăng cường oxy đáy trong ao nuôi tôm …
Sản phẩm khuyên dùng
Chất lượng hoàn toàn vượt trội, sử dụng hộp số giảm tốc vỏ gang, một trải nghiệm vô cùng mới. Oxy hoà tan cao, tạo dòng lưu thông mạnh giữ cho đáy ao luôn sạch.