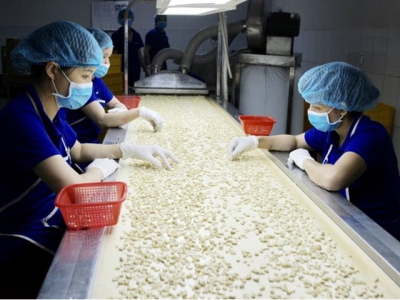 The EU is currently the second largest market for Vietnam's cashew nuts and exports to this region in 2022 are expected to reach US$ 900 million.
Friday. April 1st, 2022
Sản phẩm khuyên dùng
Máy thổi khí AT thiết kế nhỏ gọn, lưu lượng khí lớn, áp suất mạnh. Phù hợp để lắp đặt sục khí ao nuôi tôm, trại giống, ương tôm, nuôi tôm nhà màng …
Sản phẩm khuyên dùng
Tima - Tủ điều khiển ứng dụng mạng không dây LoRa. Tima sử dụng giao thức truyền dữ liệu không dây tầm xa LoRa điều khiển thiết bị như máy bơm nước, động cơ điện…
Sản phẩm khuyên dùng
Chúng tôi tự hào giới thiệu Ống thông khí Nano-Tube bọt khí mịn, oxy hoà tan cao, cải tiến quan trọng để khuếch tán oxy hoà tan trong nước phục vụ nuôi tôm công nghệ cao.