Staying vigilance against livestock illnesses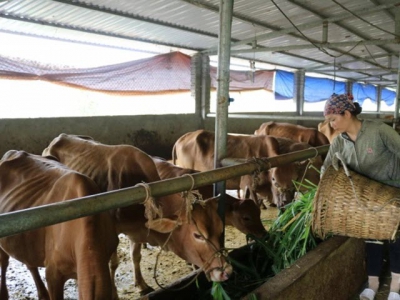 Author:
Dao Thanh - Translated by Linh Linh
Publish date:
Friday. April 1st, 2022
---
The province of Ha Giang has largely eliminated the lumpy skin disease and African Swine Fever. However, competent units recommend farmers exercise caution in the face of risks.
African Swine Fever (ASF) and lumpy skin disease (LSD) on buffalo and cows have a negative impact on the livestock industry in Ha Giang province. In 2021, the province had 10,956 buffaloes and cows infected from 7,028 agricultural households in ten districts. The competent troops slaughtered 1,150 buffaloes and cows from nine areas, totaling 205,823 kg.
Mrs. Vang Thi Sung, Pa Vi Thuong village, Pa Bi commune, Meo Vac district, had two cows that were vaccinated against LSD as recommended but nonetheless contracted the illness in a minor form. She phoned a veterinarian for advice on treating these ill cows. The cows lived and grew normally due to careful adherence to care and treatment methods.
Mr. Trinh Van Binh, head of the Ha Giang Livestock Production and Animal Health Sub-department, said that the province established a working group to monitor disease prevention and control activities in districts and cities after realizing the LSD's complexity. Additionally, it provided technical personnel to assist regions and cities in combating the illness.
The sub-department gave 27,250 litters of chemicals to districts and towns for general barn and breeding environment cleaning, disinfection, and sterilization. Additionally, at the request of districts and cities, the Sub-department established teams to analyze the requirements for proclaiming the end of the epidemic in communes that have not had an outbreak in the preceding 21 years.
As of October 1, 2021, Ha Giang province's 106 communes have completed 21 straight days of LSD-free cattle and buffalo. However, the province agriculture industry and municipal governments continue to advise farmers against being careless with disease prevention. The cold and unfavorable weather, particularly during the last several days, has created ideal circumstances for illnesses to attack animals.
Simultaneously with the emergence of LSD on buffaloes and cows, farmers in Ha Giang are confronted with ASF. By 2021, the total number of dead pigs and obligatory culling would have reached 15,887 heads/1,902 households/318 villages/71 communes/11 districts, weighing 718,140kg.
Following positive ASF testing in the area, the Sub-Department of Animal Health Region II and communities undertook mandatory destruction of all dead and diseased pigs, as well as handling the epicenters in accordance with regulations.
Simultaneously, build a working group, appoint authorities to help communes, review grassroots plans; and develop and consolidate an interdisciplinary inspection team charged with inspecting and managing cattle travel and trading in and out of the district.
According to the sub-department, the province has not found any dead pigs as of January this year. At the moment, nine districts in Dong Van, Quan Ba, Yen Minh, Meo Vac, Hoang Su Phi, Bac Me, Bac Quang, Quang Binh, and Ha Giang have declared the outbreak to be over. Eight out of nine communes in Xin Man district have gone 21 days without diseased pigs. In the Vi Xuyen district, 15 of the district's 19 communes had gone 21 days without sick pigs.
To mitigate the risks of LSD on buffalo and cows, as well as ASF outbreaks in the province, Ha Giang authorities have demanded that units, agencies, and localities implement measures to manage pig transport, slaughter, and consumption of pig products; and organize the implementation of general cleaning, disinfection, and sterilization of the livestock environment to ensure the proper technical process for thoroughly handling pathogens spreading in the environment.
Simultaneously, promoting information, propaganda, and educating people about the importance of actively monitoring cattle that exhibit signs of illness or suspected disease, promptly detecting and reporting to authorities, veterinary agencies, and deploying declared measures to prevent and control epidemics; daily cleaning, disinfecting the barn and surrounding area with disinfectant spray or lime powder.
---
Related news

Relieved of drought with water-saving irrigation system
Amid prolonged drought in the Central Highlands, water-saving irrigation system has attracted more and more attention because the technology can save not only
Thursday. March 31st, 2022

Preparing for the opening of New Zealand's market for Vietnamese fresh fruits
With the aim of introducing pomelo and lemon to New Zealand, the Plant Protection Department (PPD) has finalized technical paperwork and called relevant units'
Thursday. March 31st, 2022

Kien Giang farmers happy with rice-shrimp farming
Thanks to favourable weather conditions, farmers in the southern province of Kien Giang have had a bumper rice-shrimp crop in terms of production, productivity
Friday. April 1st, 2022