Relieved of drought with water-saving irrigation system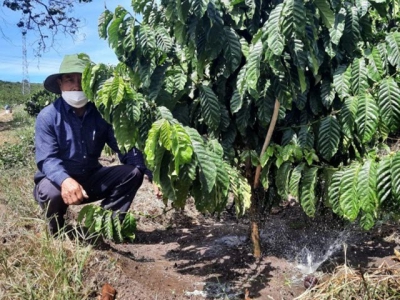 Author:
Tuan Anh - Dang Lam - Translated by Mai Tham
Publish date:
Thursday. March 31st, 2022
---
Amid prolonged drought in the Central Highlands, water-saving irrigation system has attracted more and more attention because the technology can save not only money but also water.
By installing water-saving irrigation system coffee growers can save both money and water. Photo: Dang Lam.
In 2021, coffee growers in the Central Highlands had both a bumper crop and good prices. That result came from the application of techniques and technologies. For many farmers in the area cultivating coffee is now no longer time consuming and effort intensive.
Saving both water and effort
These days, it's dry out in the Central Highlands which means coffee plants need to be watered for the first time of the year. Siu Bop has a coffee plantation in Mnong Yo village, Ia Ka commune (Chu Pah district, Gia Lai province). Seeing the plants thirsty and wilted under blazing sunshine, Siu Bop immediately turned on his irrigation system. In a moment, water was provided to each plant's root uniformly all over the coffee plantation.
Siu Bop said he used to work day and night for 10 consecutive days to water more than 2,000 coffee plants in his farm. Now, he just needs a few minutes to open and close the water-saving irrigation system. Like Siu Bop, other members of Ia Mo Nong Cooperative in Chu Pah district (Gia Lai province) have used water-saving technology for their coffee plantations.
"Previously, without automatic irrigation system, we had to spend 4 or 5 days to water 1 hectare of coffee plants. Since we received funding from VnSAT program for this automatic irrigation system it has taken only 1-2 days to water all over the farm. We can save effort, energy and water. In the rainy season, we just turn on the irrigation system for fertilizing. Everything is now much easier than before," Siu Bop said.
Many farmers in Dak Ha district (Kon Tum province) were also delighted to get funding from the Vietnam Sustainable Agriculture Transformation project (VnSAT) for installing water-saving irrigation system. Hoang Danh Chuyen, a farmer in Ha Mon commune, Dak Ha district said in 2020 VnSAT funded up to 50% of cost for his family to invest in the system on an area of more than 7 hectares.
Chuyen said funding from VnSAT for water-saving irrigation system meant a lot to coffee growers because it helped increase coffee yield, add value to coffee plants in particular and agricultural industry in general. In recent years, coffee yield has averaged over 20 tons per hectare compared to 15 tons per hectare in the past when water-saving irrigation system was not introduced.
Especially, by introducing water-saving technology, Chung's family can save the effort in taking care of the plants. Besides, labor costs can be cut down by one fourth compared to before.
"Another plus point of this system is that it can save water while the moisture in the garden is always guaranteed," said Chuyen.
According to the Management Unit VnSAT, in 2021 the program stopped providing funding for new water-saving irrigation systems because its approach has changed. Generally since 2016 VnSAT has provided funding for cooperatives and farmers' organizations with a total farming area of 187.8 hectares.
Particularly in Kon Tum province, VnSAT has helped farmers install and operate water-saving irrigation system on 89.4 hectares under cultivation in Dak Ha district.
Farmers hope to continue to have VnSAT's support
There is no doubt about the effectiveness of water-saving irrigation system. However, installing the system is always a big investment and farmers can't afford it without the support from VnSAT.
Nguyen Tri Sau, Director of Sau Nhung Cooperative based in Dak Ha district, Kon Tum province said so far, VnSAT has helped the cooperative's members invest in the system watering 37 hectares under cultivation. This system not only uses 50% less water but also save material inputs and labor costs.
"The Ministry of Agriculture and Rural Development (MARD) has talked a lot about the introduction of advanced technologies and farming techniques to sustainable coffee cultivation and it much depends on water supply and fertilizers. Thus, if we don't invest in irrigation, particularly water-saving system we can't cut down the cost of producing coffee," Sau said.
According to Nguyen Tri Sau, athough there was a huge demand for installing water-saving irrigation system, high cost of investment has become a financial burden to farmers. Therefore, coffee growers in Ha Mon commune in particular and in the Central Highlands in general hope that they will continue to have the support from the MARD and VnSAT to grow coffee sustainably and increase their income.
---
Related news

EU rice export value up handsomely
Rice exports to the EU in the first eleven months of 2021 rose 0.8 per cent in volume and an impressive 21.6 per cent in value over the same period of 2020
Thursday. March 31st, 2022

New solutions to be transferred to agriculture sector
The GRAFT Challenge Vietnam 2021, designed to promote innovation and investment in agricultural technology, has selected nine international enterprises
Thursday. March 31st, 2022

Cassava enterprises seek help from PM as GDT asks to verify foreign clients
The Vietnam Cassava Association has lodged a complaint to the PM, saying that a number of enterprises are facing a risk of going bankrupt because of issues
Thursday. March 31st, 2022