New solutions to be transferred to agriculture sector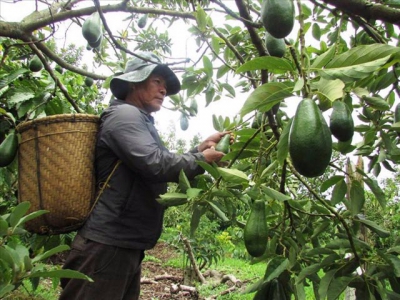 Publish date:
Thursday. March 31st, 2022
---
The GRAFT Challenge Vietnam 2021, designed to promote innovation and investment in agricultural technology, has selected nine international enterprises with innovative technology solutions in the field of agriculture to demonstrate and transfer their offerings in Vietnam. Three segments in the agricultural sector - raw materials for textiles, furniture, and seafood - have been selected by the government to focus on promoting technological research and application.
The workshop shared initial results from the Program "Promoting innovation and investment in agricultural technology in Vietnam" organized by the Vietnam Digital Agriculture Association (VIDA), the Youth Start-up Support Center (VIDA). SYS) and the Australian Embassy in Vietnam jointly held on January 11, 2022.
"RED BEN" FOR AGRICULTURAL TECHNOLOGY BUSINESSES
Mr. Justin Ahmed, GRAFT Program Manager, said that GRAFT is funded within the framework of the Australian Government's Aus4Innovation Program to promote testing of new models in public-private partnership and strengthen Vietnam's capacity in the public sector. digital forecasting, scenario development, commercialization and innovation policy.
The GRAFT Vietnam Challenge 2021 program seeks technology solutions to change the future of Vietnam's agriculture, targeting 3 main areas: Cultivation, Fisheries, and Livestock.
"GRAFT is a 'stop' designed to help the world's leading agritech enterprises penetrate and expand in the Vietnamese market.So far, the Program has selected 9 international businesses. have innovative and advanced technology solutions in the field of agriculture, to demonstrate and transfer to Vietnam", shared Mr. Justin Ahmed.
Speaking at the workshop, Mr. Mark Tattersall, Australia's Deputy Ambassador to Vietnam, said: GRAFT is an important program in the entire portfolio of Australian cooperation with Vietnam, an important milestone in the cooperation. cooperation between the two countries.
In the agricultural industry, technological solutions are extremely important, helping to increase labor productivity, increase resilience and resilience of agribusinesses and farmers. "I am delighted with the results that have been achieved from the program, we have brought together businesses and developers with innovative research and solutions that can help solve problems in the agricultural industry." , Mr. Mark Tattersall expressed.
At the seminar, Sufresca Company presented a plastic-free packaging solution for the manufacturing industry in Vietnam. Sufresca is an Israeli company that has invented an edible biodegradable coating that prolongs the shelf life of fresh fruits and vegetables up to several weeks in cold and easily exposed environments. change.
This solution has won several innovation awards, including the "Most Innovative Process Technology" award at the Fi Europe Startup Innovation Challenge 2020.
In Vietnam, after being selected, Sufresca started working with the GRAFT team to identify market entry points, having transferred the pilot into the mango industry in Dong Thap province.
Currently, GRAFT and Sufresca commissioned a Vietnamese company, TMT Consulting, to conduct research to better understand the quality assessment process in the avocado and vegetable production industry in the Central Highlands. Not only that, Sufresca also hopes to apply its technology to tomato and pepper production in Vietnam.
MULTIPLE SOLUTIONS OF DIGITAL APPLICATION IN AGRICULTURE
AgNext Technologies, an Indian company selected by GRAFT for the digitization of the Qualix food quality assessment process. It is an AI-powered platform capable of quickly and accurately assessing more than 40 physical and compositional properties of dozens of foods.
"Vietnam's agricultural industry is at the peak of its digital transformation. AgNext wants to take advantage of this moment of change to bring AI-based fast quality assessment and market linkage solutions to Vietnam's agricultural industry, thereby promoting a transparent and fast commercial model. Fast and secure industry-wide. Agnext focuses on spices, coffee, tea, animal feed, meat in the food value chain in Vietnam", said Mr. Subrat Panda, Chief Technology Officer of AgNext.
Indonesia's Jala Tech introduces an accurate data-driven shrimp farm management platform and application to support the digitization of the shrimp industry. Jala Tech has identified the right market penetration strategy by surveying areas with many shrimp farms in Bac Lieu, Soc Trang and Ca Mau provinces in the Mekong Delta - an area that accounts for 60% of production. shrimp in Vietnam. Jala Tech hopes to reach 10,000 shrimp farming households in Vietnam in the next two years.
Chris Bomgaars, founder and CEO of EveryPig, said that EveryPig has developed a platform and mobile application to support livestock farms. Monitoring activities of pig production, veterinary services such as remote diagnosis and prescribing can all be done through the application.
The app also enables the digitization of farm visit reports and custodian compliance tracking, helping producers improve operational efficiency. As of 2021, the company has expanded from the US market to Canada and Thailand, reaching a total of about 2,000 users and with millions of pigs tracked through the app.
"In the period of 2021-2030, the Ministry of Science and Technology will focus on investigating and evaluating all data in terms of the market, the ability to supply technology in the commodity chains related to agriculture; make statistics on the technology supplier, assess technology supply capacity".
Mr. Pham Duc Nghiem, Deputy Director of the Department of Science and Technology Enterprise and Market Development.
"EveryPig sets an ambition to reach 50% of the total pig herd in Vietnam within the next 3 years. This solution has the potential to reach higher goals in the not too distant future", Mr. Chris Bombaars believe.
Mr. Pham Duc Nghiem, Deputy Director of the Department of Market Development and Science and Technology Enterprises, Ministry of Science and Technology, said: In the past time, we have achieved a number of results in applying innovative solutions. created in agricultural innovation, especially applying new technologies to improve the quality of varieties, farming techniques, especially preservation and post-harvest processing.
Orientation in the coming time, the Government of Vietnam also pays much attention to solutions related to digitization, green economy development in agriculture, adaptation to climate change.
"We appreciate the coordinated implementation of the GRAFT Program, especially the solutions introduced at the show today with 9 innovative application solutions formed and incubated from the program." Mr. Nghiem said and added that the Vietnamese Government has selected 8 commodity chains to focus on promoting research, application and technology deployment, of which 3 are in the agricultural sector. These are: developing raw materials for the textile industry, including fibers; furniture chain, seafood chain.
The Ministry of Science and Technology will develop specific support solutions to connect the knowledge supply and technology transfer sources of institutes and schools in Vietnam with agricultural enterprises. At the same time, connecting via international routes to transfer technology from international partners to Vietnam.
---
Related news

Organic orange price reaching a record high in the last ten years
Organic oranges purchased in the orchard of Ham Yen district (Tuyen Quang) can be up to VND 28,000/kg, which is a record high in the past ten years.
Wednesday. March 30th, 2022

The truth about pest-resistant rice varieties
Nghe An has never heard of any rice variety marked with 'blast and blight resistant' that did not truly get sick.
Wednesday. March 30th, 2022

EU rice export value up handsomely
Rice exports to the EU in the first eleven months of 2021 rose 0.8 per cent in volume and an impressive 21.6 per cent in value over the same period of 2020
Thursday. March 31st, 2022