Cassava enterprises seek help from PM as GDT asks to verify foreign clients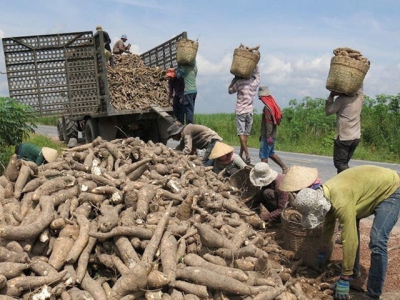 Publish date:
Thursday. March 31st, 2022
---
The Vietnam Cassava Association has lodged a complaint to the PM, saying that a number of enterprises are facing a risk of going bankrupt because of issues related to VAT (value added tax) refunds.
A problem arose after the General Department of Taxation (GDT) released an official dispatch on March 7 on 'tax refund for cassava starch products', under which the agency requests local taxation agencies to verify foreign clients. This has led to suspension of tax refunds for cassava export companies and VAT arrears collection.
The association said that that current laws don't include provisions that say that tax refund dossiers must be certified by foreign clients to be eligible for a tax refund. And export companies do not have obligations or the capability to verify foreign clients when signing contracts.
Prior to that, on August 19, 2021 and January 27, 2021, the Government Office sent documents to the Ministry of Finance, conveying instructions by Prime Minister Pham Minh Chinh and Deputy Prime Minister Le Minh Khai on removing problems of VAT refunds for cassava export companies.
However, the situation got worse because of the GDT's newly released document.
If the document is implemented, the entire cassava sector will go bankrupt, which would affect 1.2 million workers, while hundreds of production facilities would have to stop collecting cassava from farmers.
Therefore, the Vietnam Cassava Association has asked the PM to request the Ministry of Finance (MOF) and GDT to stop implementation of this document and continue giving tax refunds based on current regulations and dossiers submitted by enterprises to ensure objectivity and fairness.
The cassava sector has been facing difficulties over the last two years because of Covid-19. The inventories are high and many enterprises don't have enough money to buy materials from farmers and have had to suspend production. Meanwhile, Vietnam's enterprises have to compete fiercely with Thailand and Indonesia.
According to the association, if the problems in VAT refund cannot be fixed soon, this may lead to the collapse of the entire production chain and have a negative impact on other sectors which have border trade, such as cassava.
Cassava is Vietnam's third most important food crop with 1.2 million workers in the sector. Cassava and cassava products in recent years have brought turnover of $1.35 billion a year. Vietnam is the second largest cassava exporter, after Thailand.
There are 530,000 hectares of cassava growing area in Vietnam, mostly in difficult mountainous areas. Many growers are ethnic minorities.
---
Related news

The truth about pest-resistant rice varieties
Nghe An has never heard of any rice variety marked with 'blast and blight resistant' that did not truly get sick.
Wednesday. March 30th, 2022

EU rice export value up handsomely
Rice exports to the EU in the first eleven months of 2021 rose 0.8 per cent in volume and an impressive 21.6 per cent in value over the same period of 2020
Thursday. March 31st, 2022

New solutions to be transferred to agriculture sector
The GRAFT Challenge Vietnam 2021, designed to promote innovation and investment in agricultural technology, has selected nine international enterprises
Thursday. March 31st, 2022