Organic orange price reaching a record high in the last ten years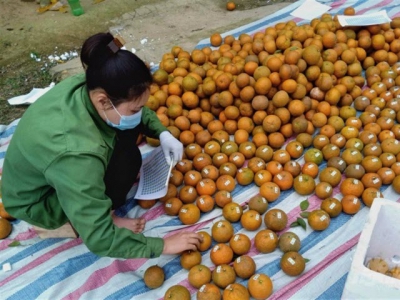 Author:
Dao Thanh - Translated by Samuel Pham
Publish date:
Wednesday. March 30th, 2022
---
Organic oranges purchased in the orchard of Ham Yen district (Tuyen Quang) can be up to VND 28,000/kg, which is a record high in the past ten years.
All of Ham Yen's organic orange products have traceability stamps. Photo: Duc Hung.
Tuyen Quang's orange crop has gained a good price this year. Trades usually pay VND 8,000 - 12,000/kg for king oranges purchased right at the orchard, depending on the model. On the other hand, the price of organic oranges reaches VND 28,000/kg, more than double of regular oranges.
According to Mr. Hoang Duc Hung, village Two, Thuoc Thuong hamlet, Tan Thanh commune, Ham Yen district, compared with regular oranges, organic oranges are more difficult to grow. The caring stage, from selecting fertilizers of biological and natural bases to pest control, takes more effort but brings lower yield. But in return farmers do not have to be in direct contact with toxic chemicals and fertilizers, so the caretakers can limit effects on their health. Consumption is also more favorable when the harvest becomes better.
The 1 ha garden of Mr. Hung's family harvested more than 13 tons of orange this year. Right from the beginning of the crop, orange wholesalers in supermarkets in Hanoi and Ho Chi Minh city came to the garden to order at the price of VND 28,000/kg, while the remaining 4 ha of regular oranges owned by his family were only paid for VND 9,000 to 12,000/kg.
Mr. Hung intends to expand the organic orange growing area in the 2022 crop.
The entire district of Ham Yen has more than 24 ha of land utilized in organic cultivation. Organic oranges alone occupy more than 18 ha, mainly concentrated in Tan Yen town, Tan Thanh commune, and Nhan Muc commune.
The total organic orange output is estimated at approximately 80 tons. Up to the present date gardeners have sold 30% of the output to restaurant and supermarket systems in Hanoi, Ho Chi Minh city and many other locations around Vietnam. Ho Chi Minh city is where orange products are consumed the most.
Mr. Tran Hai Tuyen, Director of Tuyen Quang Sub-Department of Crop Production and Plant Protection said that organic orange farmers receive support through training in planting and caring techniques, trade promotion, and market connection. Harvested oranges possess a richer taste and take longer to rot compared to regular oranges. Stamps for product traceability and transparency of information have now been made a requisite among the members of organic orange farming groups.
Tuyen Quang province currently has more than 6,400 ha of oranges with an estimated output of 83,000 tons.
In order to help orange growers maintain the brand, quality and economic efficiency, Tuyen Quang Department of Agriculture and Rural Development and related units and localities are paying more attention to promoting the development of orange growing models towards GlobalGAP, VietGAP, and Organic standards.
Ham Yen district has established a Working Group along the national highway after the orange crop to examine the origin of oranges sold in the area. Local authorities conduct strict inspections before, during and after the orange crop to ensure that orange growers do not use chemicals for preservation.
---
Related news

Biosecurity in livestock production increases survival rate to 95%
Taking part in cooperative groups along with the adoption of biosecurity measures in livestock production has increased survival rate of raised animals to 95%.
Tuesday. March 29th, 2022

High fertilizer prices are creating pain for consumers and gains for investors
Fertilizer stocks are among this year's best performers as companies benefit from a big jump in prices for ingredients used to grow crops.
Tuesday. March 29th, 2022

Cashew nuts export exceeded USD 3.6 billion for the first time
Cashew nuts export in 2021 experienced good growth, achieving new records both in volume and value with turnover exceeding the USD 3.6 billion mark.
Wednesday. March 30th, 2022