Industry wants origin of organic livestock rule finalized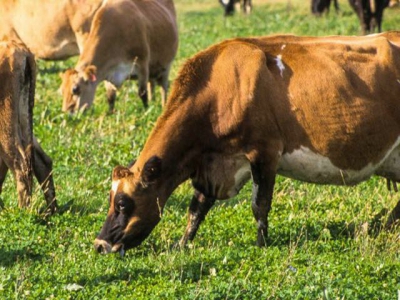 Publish date:
Tuesday. January 7th, 2020
---
USDA reopens proposed rule on amending origin of livestock requirements for dairy animals.
The U.S. Department of Agriculture's Agricultural Marketing Service (AMS) said Oct. 1 it is reopening the comment period for an additional 60 days on it 2015 proposed rule to amend the origin of livestock requirements for dairy animals under the USDA organic regulations.
The Organic Trade Assn. (OTA) said it is focused on securing a final rule early in 2020, despite USDA's decision to initiate the public comment period.
In a notice, AMS said the National Organic Program received 1,580 public comments in 2015, and individuals do not need to resubmit the same comments already offered in 2015, but it said it welcomes new or updated comments.
"Reopening the public comment period gives people a chance to submit comments who did not do so in 2015. It also allows people to submit updated information, if needed, to inform USDA's development of a final rule," AMS said.
However, OTA said the additional comment period will only reinforce the 1,500 comments already submitted during the original comment period.
USDA's original proposed action it would specify that a producer can transition dairy animals into organic production once. This proposed action would clarify that, after completion of this one-time transition, any new dairy animals added to the dairy farm would need to be managed organically from the last third of gestation or sourced from dairy animals that already completed their transition into organic production.
The proposed rule reiterates that breeder stock may be brought from a non-organic operation onto an organic operation at any time. While the regulations prohibit organic livestock from being removed and managed on a non-organic operation and subsequently returned to an organic operation (i.e., cycling in and out of organic production), this provision does not extend to non-organic breeder stock that are themselves not certified or eligible for slaughter, sale and labeling as organic. Further, the Organic Foods Production Act of 1990 specifically allows breeder stock to be purchased from any source if the stock is not in its last third of gestation.
Consistent with the Organic Foods Production Act and USDA organic regulations, a producer has flexibility in sourcing and management of non-organic breeder stock after an organic calf is weaned and before it begins the last third of gestation for the next offspring. However, a producer must continue to prevent commingling of organic and non-organic products and prevent contact of any organic production or products with prohibited substances, the rule stated.
In a statement, OTA said the organic industry has been asking for the origins of livestock clarification since 2010. "There should be no doubt that the industry has reached consensus on this policy to level the process for organic dairy farmers," the group noted.
The statement added that both the organic sector and Congress have been crystal clear that USDA needs to act to address the inconsistency in enforcement of the organic standards and issue a final rule. "Congress has demonstrated strong bipartisan support and set the clock for implementation of the Origin of Livestock rule. Both the House and Senate agriculture spending packages for 2020 require USDA to issue a final rule on the Origin of Livestock within 180 days of the final spending bill being signed into law," the OTA statement noted.
"Industry and Congress are in lockstep," OTA chief executive officer and executive director Laura Batcha stated. "They have been definitive that the policy needs to be clarified and it needs to happen expeditiously. The comment period doesn't change that."
"The organic dairy sector is struggling, and inconsistent interpretation of the standards is putting farmers at a devastating economic disadvantage," OTA added in its statement. "USDA knows this. Implementation of the final rule will support an equitable environment for farmers and processors."
---
Related news

Oregano extract may improve feeding rate, milk production in Jersey cows
Supplementing transitional Jersey cow diets with oregano extract may improve social behavior, feeding rate and dry matter intake along with production
Tuesday. December 31st, 2019

Ruminant feed with orange leaves may reduce methane emissions
Use of fruit and vegetable residues also reduces burning of byproducts in field.
Thursday. January 2nd, 2020

Study explores optimal training for livestock guardian dogs
Bonding pen experiences produce a better livestock guardian dog (LGD). Bonding pens are fenced pastures where dogs bond with the species of their future charges
Friday. January 3rd, 2020