Canola oil, nitrate play role in lowering cattle methane output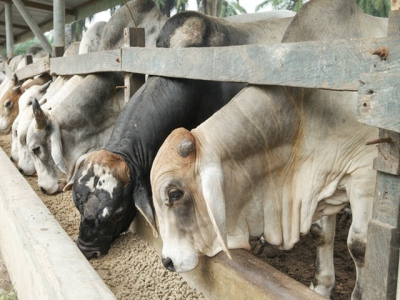 Author:
Aerin Einstein-Curtis
Publish date:
Tuesday. January 7th, 2020
---
Supplementing beef cattle diets with nitrate and canola oil lowered methane yield and daily methane production but it does not alter the flow of microbial non-ammonia nitrogen, researchers say.
An international team of researchers from Argentina and Australia explored the use of dietary nitrate and canola oil on digesta kinetics, fermentation and methane emissions in cattle. The study was published in the journal, Animal Feed Science and Technology​​​.
"We hypothesized that feeding NO3¯ in combination with canola oil (NO3¯+O) may not only lead to a change in energy availability, but also to differences in microbial N [nitrogen] supply that could affect animal performance," ​the researchers said.
The researchers found that feeding a diet with both nitrate (NO3-) and canola oil reduced methane yield by 25%, daily methane production by 26% and the rumen mean retention time (MRT) compared to the control diet.
Diets with nitrate reduced whole tract digestibly (DMD), they said. Total volatile fatty acids (VFA) were similar for all diets, but the proportion of acetate increased when NO3 was in the diet and the proportion of propionate expanded when canola oil was included.
Diets with oil lowered rumen volume, and rumen protozoa concentration fell when either, or both, ammonia or oil were included, they said.
"This experiment shows that feeding dietary NO3¯ and canola oil in combination has a synergistic effect on reducing DMP and MY from beef cattle," ​the researchers said. "The combination of both dietary additives will allow high levels of CH4 mitigation to be sustained with a lower dose of NO3¯ and therefore a reduced likelihood of NO2¯ toxicity, which is a practical constraint to the inclusion of NO3¯ in diets as a non-protein N source in ruminants."
Greenhouse gas production​
Greenhouse gases released by livestock include methane (CH4) at about 43%, nitrous oxide at 29% and carbon dioxide at 27%, the researchers said.
"Hydrogen (H2) produced in the rumen during microbial fermentation of carbohydrates provides electrons that reduce CO2 to CH4," ​they added.
One way to reduce the greenhouse gas emissions from ruminants is to alter rumen fermentation using dietary additives, they said. Dietary nitrate (NO3-) can reduce methanogenesis by reducing the availability of H2 in the rumen.
"When present in the rumen, NO3¯ has a higher affinity for H2 than does CO2¸ and therefore CH4 production is decreased," ​they said. "Nitrate is firstly reduced to nitrite (NO2¯) and then to ammonia (NH3), which is energetically more favorable than the reduction of CO2 to CH4 and reduces H2 availability for methanogens."​
However, the generation of methemoglobinemia from NO2- in the rumen and absorbed into the bloodstream limits the use of NO3- as a supplement for livestock, the researchers said. There are several strategies to reduce the potential of NO2- poisoning.
Why use nitrate and canola oil in feed?​
Adding lipids to ruminant diets provides another method to lower enteric CH4 emissions by reducing the growth of methanogens or by lowering the diet's ruminal fermentability, the researchers said. "More recent studies have shown that the combination of dietary NO3¯ and dietary oils in cattle has an additive and longer-term CH4 inhibiting effect than either treatment on its own," ​they added.
In earlier research, increased rate of passage for rumen digesta has been linked to a boost in microbial growth and improved efficiency of microbial synthesis, they said. In feeding trials with sheep, reduced rumen mean retention time (MRT) and lowered rumen volumes have been linked to a drop in CH4 emissions.
"Dietary NO3¯ has been shown to reduce total MRT and to increase microbial N outflow in sheep while reducing CH4 emissions," ​they said. "Similarly, the inclusion of oils rich in polyunsaturated fatty acids in the diet of ruminants has been shown to increase microbial synthesis and non-ammonia N flow particularly when ruminal protozoal number in the rumen is reduced, and consequently a reduction in enteric CH4 production is also expected."​
However, little is known about the influence of NO3- and canola oil on digesta kinetics or the outflow of microbial non-ammonia nitrogen (MicNAN) in cattle, they said.
"This experiment evaluated the effects of NO3¯ and canola oil, alone or in combination, on CH4 production and VFA balance, digesta kinetics, outflow of microbial N from the rumen of cattle and microbial growth efficiency (g MicNAN/DOMI)," ​they said.
Feeding trial ​
In the feeding trial four cannulated steer received one of four diets for a 21-day period before being rotated to another diet, the researchers said. The periods had a 4-day introduction and cattle received the trial day from day 5 to 21 of the feeding window.
The diets included a control (CON) with Lucerne chaff and barley grain; the control diet with 20g NO3-/kg (NO3-); the control with 50g canola oil/kg (O); or the control with both NO3- and canola oil (NO3- + O), they said.
Feed provided, and refusals were weighed and noted daily, and diet samples were collected for analysis of acid detergent fiber, neutral detergent fiber, DMD of the feed, metabolizable energy, crude protein and crude fat during each feeding period, they said.
Measurement of methane emissions occurred on days 14 and 21 of the feeding period, rumen samples were taken on day 15 and cattle weights were recorded on days 15 and 21, they said. "Digesta marker infusion and rumen-reticulum sampling were performed from Day 16 to Day 20."​
"Animals received a continuous intraruminal infusion of ytterbium acetate (14.64 g/d of Yb, Inframat, 99.99%), 15N-ammonium chloride (3.82 g/d of 15N, 99.9 atoms %, ICON Isotopes, MI, USA) and Co-EDTA (16.70 g/d of Co, AVA Chemicals, Mumbai, India) for 4 d, commencing at 0900 h on Day 16 and ceasing at 0900 h on Day 20," ​the researchers said. Background 15N, Co and Yb levels were measured and chromic oxide was used to check whole tract digestibility, they added.
Reticular samples were taken for analysis on days 18-20 and rumen digesta was collected on days 15, 18, 19 and 20, they said. Samples were checked for several factors including bacteria, abundance of 15N and rumen NH3-N (ammoniacal nitrogen), ruminal volatile fatty acid (VFA) concentrations and ruminal protozoa.
The dry matter content of feed, rumen digesta, fecal samples and reticulum digesta were assessed, they said. Fecal samples were gathered on from day 10 through day 14 to help check total tract DMD.
"The kinetics of rumen digesta were determined from the concentrations of markers (Co and Yb) in the ten samples of rumen contents collected during the infusion period,"​ they added.
Results​
Adding both NO3- and canola oil to the feed reduced dry matter intake (DMI) compared to intake of feed with only canola oil, the researchers said. Adding NO3- alone or in combination with canola oil lowered DMD.
However, there was a synergistic interaction between NO3- and canola oil in terms of reducing CH4, they said. "Feeding NO3¯+O diet, reduced MY relative to cattle fed the other diets,"​ they added.
"This experiment demonstrates that feeding NO3¯+O has a synergistic effect on reducing methanogenesis from beef cattle which is consistent with NO3¯ and canola oil having complementary mechanisms for suppressing enteric CH4 production," ​they said.​
"Reducing methanogenesis by feeding NO3¯+O in this experiment did not improve the flow of MicNAN from the rumen (g MicNAN/d), microbial growth efficiency (g MicNAN/digestible organic matter intake, DOMI) or the proportion of microbial N derived from rumen NH3," ​they added.
There tended to be an improvement in DMD and methane yield for cattle on the NO3- +O diet, the researchers said. The peak of methane production following feeding was less pronounced for cattle receiving the diet with both supplements than it was in animals eating the control or canola oil diets.
Ruminal pH varied with cattle eating the canola oil diet displaying a reduced rumen pH compared to those on the NO3- or NO3- + O diets, they said. "Nitrate and O-containing diets increased rumen NH3-N concentrations relative to CON," ​they added.
Concentrations of total ruminal VFA were similar for all diets, they said.
"However, NO3¯ inclusion increased acetate proportion and acetate to propionate ratio; whereas these parameters were reduced by feeding the O diet,"​ the researchers said. "Propionate proportion was greater in cattle fed the O diet compared with the other diets whereas butyrate was greater in the O treatment relative to NO3-fed cattle."​
Small entodiniomorphs were the main protozoa present in the rumen regardless of diet, they said. Supplementing feed with NO3- or canola oil, alone or combined lowered total rumen protozoa and the concentration of small entodiniomorphs, while adding NO3- or NO3- + O lowered the concentration of large entodiniomorphs.
Adding NO3- or NO3- + O to the diets boosted daily nitrogen intake and increased ruminal NH3-N, they said. Adding NO3- reduced dry matter content in rumen digesta compared to the other diets.
There was more outflow of ruminal fluid when cattle received a diet with NO3- and the feed additive increased rumen DM outflow rate, they said. "An additive effect between NO3¯ and canola oil on reducing rumen particulate MRT [mean retention time] was observed."​
Adding canola oil to diets lowered the volume and MRT of rumen fluid, pool size and outflow rate of dry matter along with reducing the pool size of rumen NH3-N and microbial N, the researchers said. "Flow of TD [true digesta] was less in cattle fed O-containing diets."​
Source: Animal Feed Science and Technology​
Authors: M.L. Villar, R.S. Hegarty, J.V. Nolan, I.R. Godwin, M. McPhee
---
Related news

Ruminant feed with orange leaves may reduce methane emissions
Use of fruit and vegetable residues also reduces burning of byproducts in field.
Thursday. January 2nd, 2020

Study explores optimal training for livestock guardian dogs
Bonding pen experiences produce a better livestock guardian dog (LGD). Bonding pens are fenced pastures where dogs bond with the species of their future charges
Friday. January 3rd, 2020

Industry wants origin of organic livestock rule finalized
USDA reopens proposed rule on amending origin of livestock requirements for dairy animals.
Tuesday. January 7th, 2020