Vietnam seeing strong growth in vegetable, fruit exports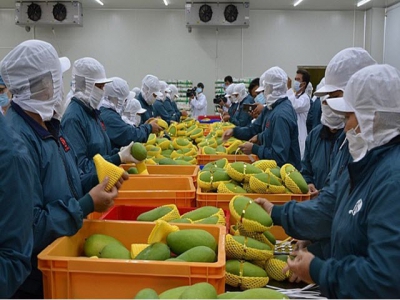 Publish date:
Saturday. June 12th, 2021
---
Thanks to successful containment of the COVID-19 pandemic, Vietnam's vegetable and fruit exports in the first quarter of this year saw strong growth and is expected to rise further in the coming months.
Since early morning, Nguyen Van Dung of Khe Goi hamlet in Ninh Binh province has been tending the family's 4 ha of pineapples on the hill behind his house.
Dung said all the produce of the hamlet has been exported. He and his neighbors just need to ensure they meet the required hygiene standards.
"Businesses have guaranteed to buy the local produce, so pineapple prices are stable and our livelihoods are assured. Because we signed contracts with these businesses, we must be responsible for safety standards. In return, the businesses will take responsibility for buying all our produce and even lend us money to buy seedlings and fertilizers," said Dung.
In March Vietnam earned 380 million USD from vegetable and fruit exports, up 6.3% from last year. These achievements were made possible by Vietnam's success in controlling the coronavirus epidemic and by the success of sectors and localities in locating new markets. Vietnam's fruits and vegetables have been sold to China, the US, Japan, and South Korea. Revenues from vegetable and fruit exports to Taiwan (China), Australia, and Malaysia, have soared.
Deputy Minister of Agriculture and Rural Development Ha Cong Tuan said, "The Ministry has implemented several measures to expand export markets. Lessons from the COVID-19 pandemic about enterprises' resilience in difficult situations have helped us reduce our dependence on a single market. We've also strictly followed safe production practices to firmly secure the brand of Vietnamese goods."
Participating in many free trade agreements with international partners has given Vietnamese fruit and veggie exports an advantage in entering major markets this year.
Vietnamese fruits and vegetables have met the strict standards of demanding markets like the US, the EU, and Japan, earning trust among consumers around the world.
With the COVID-19 pandemic still raging around the world, Vietnam has adhered to safety standards in production and transportation, making it easier for Vietnamese agricultural products to enter other countries.
Hoang Trung, Director of the Plant Protection Department of the Ministry of Agriculture and Rural Development, underscored the importance of further improving product quality and traceability by expanding growing areas that meet global standards.
He said, "Every step in Vietnam's vegetable and fruit production strictly complies with standards set by countries Vietnam has signed export agreements with."
"We've improved food safety and hygiene standards and reduced the use of pesticides and other chemicals that are banned by import markets. Zoning codes have been applied to make origin traceability easier, and thorough inspections have been carried out before exporting," Trung said.
Since the beginning of the year, Vietnamese fruits and vegetables have been exported to new markets like Ukraine and Egypt.
To increase these exports, Vietnamese enterprises should continue to follow quality standards and do more trade promotion and brand building in foreign markets.
---
Related news

Efficiency of farm economic model improved
The province has developed many large-scale economic models in which farm economy plays an important role in transiting from small-scale
Saturday. June 12th, 2021

Farm economic products apply advanced technologies
Farm economic models in agricultural production have been continuously developed. The development of farm economy has helped farmers bring into full play
Saturday. June 12th, 2021

Firms to get help to expand rice export markets
In order to take advantage of FTAs ​​and increase the Vietnamese rice export market share at more competitive prices
Saturday. June 12th, 2021