Pangasius exports to China suffer sharp drop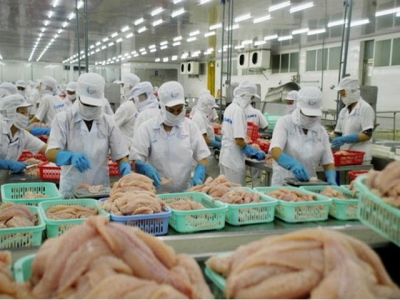 Publish date:
Friday. May 7th, 2021
---
The total export value of tra fish (pangasius) to China by mid-February plummeted by 38.6% on-year to US$13.55 million, according to the Vietnam Association of Seafood Exporters and Producers (VASEP).
The export value of pangasius to Hong Kong (China) also decreased by 40.5%, reported the VASEP.
The VASEP attributed this sharp decline to the adverse impact caused by the novel coronavirus (COVID-19) pandemic which has led many of Chinese seafood processing factories to delay their resumption of operations, thereby leading to disruption in trade exchange activities.
Since the end of the second quarter and the beginning of the third quarter of last year, exports to China have become more bustling, with the export price of frozen pangasius to the market increasing sharply to US$2.52 per kilo.
Despite this, China has moved to tighten control over goods which pass through ports and border gates, an action which has led to the suspension of imported seafood products.
Furthermore, Guangxi that a common border with Vietnam has also tightened frozen food imports in terms of product quarantine, sterilisation, and origin traceability.
Last year saw roughly 145 enterprises and co-operatives export pangasius to the Chinese market while 40 firms shipped tra fish products to Hong Kong.
Three local enterprises which recorded the largest export value to the Chinese market include IDI Corp., VINH HOAN Corp., and TG FISHERY, while the three largest pangasius exporters to Hong Kong include IDI Corp., VINH HOAN Corp., and VDTG FOOD.
---
Related news

Tien Giang to expand aquatic farming area to over 10,500 ha
The districts of Go Cong Dong and Tan Phu Dong, which form key saline and brackish water aquaculture areas in the Mekong Delta province of Tien Giang
Thursday. May 6th, 2021

Shrimp businesses intensify greater investment for long-term development
Local shrimp enterprises have heavily invested in building processing facilities and raw material areas for their long-term development
Thursday. May 6th, 2021

Vietnam becomes the fourth largest seafood exporter to Japan
Vietnam has emerged as the fourth-largest seafood exporter to Japan, with its products making up 7% of Japan's total seafood imports in January 2021
Thursday. May 6th, 2021