Shrimp businesses intensify greater investment for long-term development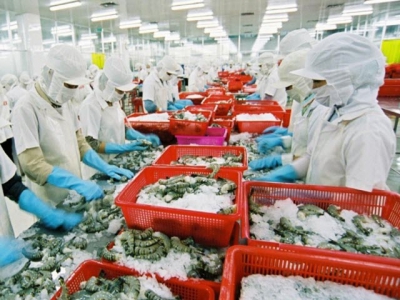 Publish date:
Thursday. May 6th, 2021
---
Local shrimp enterprises have heavily invested in building processing facilities and raw material areas for their long-term development after recording double-digit growth last year, despite the COVID-19 pandemic, whilst capitalising on opportunities from new-generation free trade agreements (FTAs).
Major players include the likes of Thuan Phuoc Seafood & Trading Corp., the Minh Phu Seafood Corp., and the Nha Trang Seafood Company, which have stepped up expansion efforts since the beginning of the year, all of which are taking place in the Mekong Delta.
Thuan Phuoc opened its 17.45 An An shrimp processing plant worth a total of US$17.45 million in Tien Giang province, with the site featuring a capacity of approximately 50 tonnes of finished shrimp products each day.
Elsewhere, Minh Phu is preparing to start construction on two large-scale processing plants, at a cost of roughly VND1 trillion and with a combined annual capacity close to 50,000 tonnes, in Hau Giang and Ca Mau provinces. The corporation is also in the process of eyeing the construction of another factory in nearby Kien Giang province.
Furthermore, Nha Trang Seafood is also putting the final touches on a processing plant in Bac Lieu province which is set to be capable of producing 10,000 tonnes of products each year.
Last year witnessed Sao Ta Foods JSC invest approximately VND400 billion in simultaneously building two shrimp processing plants in An Nghiep Industrial Park of Soc Trang province, with the sites boasting a capacity of 20,000 tonnes annually.
A draft fishery development strategy towards 2030 with a vision to 2045, developed by the Ministry of Agriculture and Rural Development, is aiming for the sector to contribute between 28% to 30% of national GDP by 2030. Indeed, aquatic output is set to reach 10 million tonnes, of which aquaculture output will account for 70% to 75%. This will serve as a driving force for local firms to invest in expanding raw material farming areas.
At the "Dialogue 2045" programme chaired by Prime Minister Nguyen Xuan Phuc in early March, Le Van Quang, director general of Minh Phu Seafood, said that to ensure sustainable material sources, his firm has devised a plan relating to smart and green value chain development. This consists of different shrimp farming models which are suitable to different localities, whilst the enterprise has also developed an AI- and blockchain-based mobile phone app which can be used to manage shrimp farms.
Through the development of sustainable shrimp production models, Quang believes the country will be capable of becoming the world's leading shrimp production and processing powerhouse, holding a market share of 25% globally whilst producing nearly 4 million tonnes of raw shrimp by 2045.
---
Related news

Shrimp businesses invest in long-term development
Having posted double-digit growth last year despite COVID-19 and with opportunities stemming from new-generation free trade agreements, many shrimp enterprises
Wednesday. May 5th, 2021

Seafood shipments returned by China surge
In the first quarter of this year, China returned 15 of the 40 seafood shipments of Vietnam as they failed to meet food safety regulations
Wednesday. May 5th, 2021

Tien Giang to expand aquatic farming area to over 10,500 ha
The districts of Go Cong Dong and Tan Phu Dong, which form key saline and brackish water aquaculture areas in the Mekong Delta province of Tien Giang
Thursday. May 6th, 2021