Vietnam likely to export 6.7 million tonnes of rice this year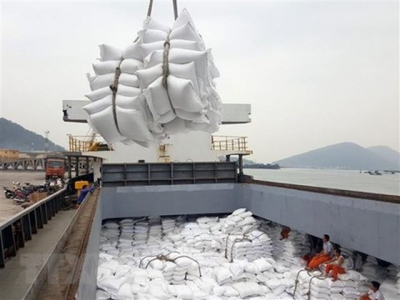 Publish date:
Saturday. September 19th, 2020
---
Vietnam is likely to reach its rice export target of 6.7 million tonnes this year thanks to favourable market conditions and high global demand, according to the Ministry of Agriculture and Rural Development.
Rice was one of the few commodities to withstand the negative impact of the novel coronavirus (COVID-19) epidemic in the first half of the year, with both rice export volume and value increasing by 5.6% and 19.3% to 3.54 million tonnes and US$1.73 billion, respectively.
The Ministry of Industry and Trade (MoIT) projected that Vietnamese rice firms would have an opportunity to increase their output and export prices in the near future.
Furthermore, the impending enforcement of the European Union-Vietnam Free Trade Agreement (EVFTA) in August is expected to offer fresh impetus for Vietnamese rice to penetrate into the demanding markets.
The Import-Export Department under the MoIT recently published a list of local rice export businesses as of July 15, with the total number of eligible rice traders in the country rising to 192.
According to the MoIT, Vietnam's trade activities with China via the northern border gates during the first half of the year have remained stagnant since February as a result of the impact of the COVID-19 epidemic, affecting the export of major Vietnamese farm produce to this market.
The agro-forestry-fisheries exports have decreased 4.4% year on year to US$11.7 billion.
---
Related news

High-tech farming brings good profits to former graphic designer
Despite hardships along the way, perseverance has brought young man success in developing a high-tech farming project in his hometown in Bình Định Province.
Friday. September 18th, 2020

Viet Nam promotes durian in Australia
The event aimed to promote the consumption of durian - a specialty fruit of Việt Nam's southern delta region - in Australia.
Friday. September 18th, 2020

Son La province boosts farm exports
In the last five years, Son La province has been a hub of agricultural production. The province has increased exports of longan, mango, and passion fruit
Friday. September 18th, 2020