Son La province boosts farm exports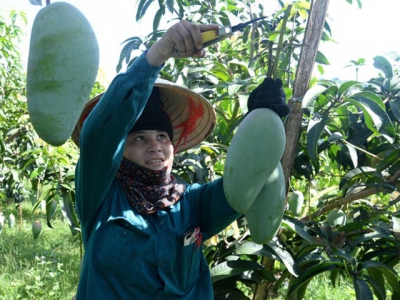 Publish date:
Friday. September 18th, 2020
---
In the last five years, Son La province has been a hub of agricultural production. The province has increased exports of longan, mango, and passion fruit by improving product quality and switching to organic production.
Son La province, previously Vietnam's largest maize producer, has in a short time shifted to fruit production and become Vietnam's second largest fruit producer with a total cultivation area of 71,000 ha. The province has established 73 supply chains of organic fruits with a yield of 13,000 tons per year. 78 enterprises and cooperatives have VietGAP certificates.
Nguyen Thanh Cong, Director of the Son La Department of Agriculture and Rural Development, said: "Son La province promotes safe production and improved product quality to meet customer demand. We have encouraged farmers to shift to organic, clean production."
In the first four months of this year, Son La has sold more than 32,000 tons of mango and earned 31.7 million USD from farm export. Local farmers are harvesting plums and mangos for export to China. Mai Son district has more than 2,600 ha of mango, 2,000 of which meet VietGAP standards and produces more than 14,000 tons annually. Co Noi commune in Mai Son district exports more than 40 tons of mango to the US each year.
Pham Van Hung, a local farmer, said: "We apply the VietGAP standard in mango production to ensure product quality. We're happy that we can export mango to the US even during the COVID-19 pandemic.
Farmers in Chieng Xuan commune are harvesting mangos for export to a number of countries. Farmer Nguyen Huong Long says he has applied technology on his mango farm so he can harvest three crops of mango a year. Last month, he harvested 10 tons of mango per ha.
Using safe supply chains and region codes has become common practice in Son La province. It intends to expand links between businesses that invest in agriculture processing factories and material production regions. Son La's main export items are passion fruits, bananas, fried tea leaves, coffee beans, and cassava powder and its main export markets are China, the EU, Japan, the US, and Germany. The local Yen Chau mango is now available in the US, the UK, and Australia.
Deputy Minister of Agriculture and Rural Development Le Quoc Doanh said safe production must be promoted to meet the demand of the domestic and export markets. "The Ministry of Agriculture and Rural Development is working with relevant agencies and northern mountain provinces to devise a regional master plan on fruit production and export. Otherwise there would be an imbalance between supply and demand. The Ministry will make a specific plan for each type of fruit. It's important to strengthen links between businesses and localities to ensure standard production chains, distribution, and sustainable development of the market," said Doanh.
Thanks to the support of the Ministry of Agriculture and Rural Development, the production area applying VietGAP standards in Son La has expanded steadily, changing farming methods and raising the awareness of farmers about safe production. In order to expand its export market, the province intends to focus even more on VietGAP and GlobalGap standards.
---
Related news

Trà Vinh District gets brand certifications for specialty agricultural products
Cầu Kè District in Trà Vinh Province has received brand certifications for its three specialty products, Hòa Tân sáp coconut, Tân Qui mangosteen
Friday. September 18th, 2020

High-tech farming brings good profits to former graphic designer
Despite hardships along the way, perseverance has brought young man success in developing a high-tech farming project in his hometown in Bình Định Province.
Friday. September 18th, 2020

Viet Nam promotes durian in Australia
The event aimed to promote the consumption of durian - a specialty fruit of Việt Nam's southern delta region - in Australia.
Friday. September 18th, 2020