Son La ships 3 tons of mangoes to Australia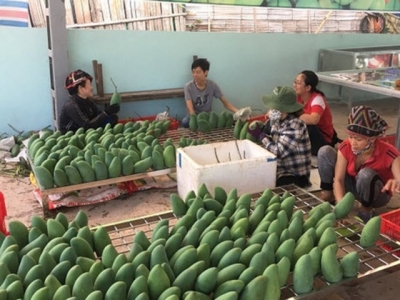 Publish date:
Saturday. June 23rd, 2018
---
Agricare Vietnam Co.Ltd has so far bought 3 tons of this year's crop of mangoes from farmers in Yen Chau district of the northern province of Son La to export to Australia.
This is only the second year that mangoes grown in Yen Chau district have been shipped to Australia.
Yen Chau mangoes have been granted a certificate of geographic indication by the National Office of Intellectual Property of Vietnam.
The district has around 1,200ha of mango plantations with a total output of about 3,500 tons.
To promote Yen Chau mango brand, the district People's Committee held the 2018 mango festival on June 10-11 with a wide range of activities, such as an opening ceremony with a special art performance, a display of local agricultural and handicraft products, a mango harvesting contest, a ceremony to honour growers, tours of mango gardens, and traditional games and sports.
Addressing the opening ceremony, chairman of Yen Chau district People's Committee Ha Nhu Hue said the festival aims to promote its mango brand and honour mango growers as well as showcasing Yen Chau's land and people to domestic and foreign visitors, while laying the foundations for tourism development in line with local potential.
---
Related news

Vietnamese businesses attend biggest agricultural fair in Argentina
Vietnamese businesses are joining Argentine and foreign peers at AgroActiva – the biggest agricultural fair in Argentina, in Santa Fe province
Friday. June 22nd, 2018

Fruit, vegetable exports surpass oil
In the first four months of 2018, fruit and vegetables for the first time surpassed crude oil in terms of export value, with US$1.32 billion
Saturday. June 23rd, 2018
Vietnamese coffee prices keep dipping
Coffee prices in the Central Highlands have been decreasing since the beginning of the year, and are not likely to recover any time soon
Saturday. June 23rd, 2018