Fruit, vegetable exports surpass oil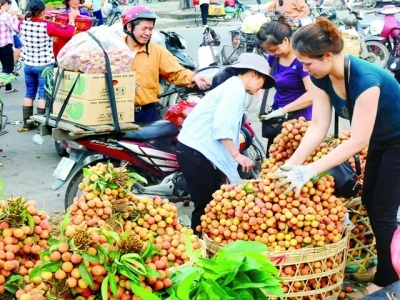 Publish date:
Saturday. June 23rd, 2018
---
In the first four months of 2018, fruit and vegetables for the first time surpassed crude oil in terms of export value, with US$1.32 billion. Vietnam Economic News' Nguyen Hanh talked with Hoang Trung, Director of the Ministry of Agriculture and Rural Development's Plant Protection Department, about favorable conditions and challenges for fruit and vegetable exports.
Vietnamese litchis sell well in China
What do you think of the feasibility of the fruit and vegetable export target set for 2018 in the context of growing protectionism in importing countries?
This year, the Ministry of Agriculture and Rural Development (MARD) is striving to achieve total export value of US$40 billion, with fruit and vegetables to account for about US$4 billion. Given the positive results achieved in the early months of 2018, as well as tight coordination between state authorities and business efforts, we expect this target to be achievable. However, importing countries tend to use technical barriers instead of tariffs to protect domestic production. Therefore, improving quality is crucial to firmly positioning Vietnamese products in traditional export markets.
China is a major market for Vietnamese fruit and vegetables. Could you share the favorable conditions and difficulties facing exports to this market?
Vietnam's geographical proximity to China is a favorable condition for exports to this market. The Chinese economy has grown rapidly for years with market demand forecast to continue increasing in coming years. However, its requirements in terms of product quality are also growing.
China is promoting the import of agricultural products via official trade channels and tightening management over imported goods, especially in terms of food safety and hygiene. Meanwhile, Vietnamese businesses still lack long-term export strategies, as well as linkages with farmers. Improving product quality is necessary to meet the requirements of not only Chinese importers but also those from other markets worldwide, helping prevent heavy dependence on just one market.
What additional measures are needed to promote fruit and vegetable exports?
The good results of fruit and vegetable exports in the first four months of 2018 are attributed to the linkages between businesses and farmers in the entire production process, from planting to processing and treatment before export. Along with tightening these linkages, it is necessary to intensify the spread of importing countries' plant quarantine and food safety regulations among businesses and farmers.
The Plant Protection Department will negotiate for Vietnamese fruit to enter potential markets with high purchasing power. At the same time, the department will maintain cooperation with the quarantine offices of importing countries to facilitate export activities.
---
Related news