Seafood shipments returned by China surge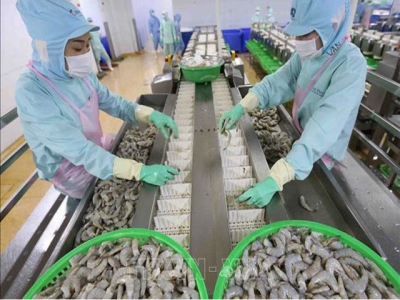 Publish date:
Wednesday. May 5th, 2021
---
Ho Chi Minh City – In the first quarter of this year, China returned 15 of the 40 seafood shipments of Vietnam as they failed to meet food safety regulations, well above the six shipments in the whole of 2020, said Ngo Hong Phong, deputy head of the National Agro-Forestry-Fisheries Quality Assurance Department (NAFIQAD) under the Ministry of Agriculture and Rural Development.
Workers process shrimp for export at a factory of Minh Phu Seafood Corporation in Ca Mau. The number of Vietnam's seafood shipments returned by China has surged - PHOTO: VNA
At a conference on seafood disease prevention and control in the north held on March 19 in Hanoi, Phong said that despite the quality of Vietnamese seafood products having improved significantly, the number of returned shipments from China remained high, Thanh Nien Online newspaper reported.
China has informed that some Vietnamese frozen and heat-processed shrimp shipments were found to be positive for the infectious hypodermal and haematopoietic necrosis and white spot syndrome viruses.
NAFIQAD has asked the Chinese competent agencies to provide scientific and legal foundations to arrive at such a conclusion.
Besides China, some other importing markets have changed their regulations on the food safety certification for imports.
Specifically, in South Korea, shrimp products meeting requirements on heat processing will be exempted from tests for diseases. However, the long heat processing can affect the color and taste of the products.
NAFIQAD has asked the competent agencies in South Korea to amend this regulation to ensure the safety and quality of the products.
In addition, this country has required that exporters must have certificates proving that their seafood products do not catch the decapod iridescent virus 1, tilapia lake virus, necrotizing hepatopancreatitis, salmonid alphavirus and acute hepatopancreatic necrosis disease.
This regulation will be applied from August 1.
---
Related news

Is wastewater-fed aquaculture a sustainability gamechanger?
Wastewater-fed aquaculture has been suggested as a low-tech and sustainable way to provide animal protein while investing in water treatment infrastructure
Monday. May 3rd, 2021

Collecting and transporting wild broodstock: best practice
Wild broodstock are still widely collected – both for aquaculture and for restocking purposes – but ensuring the health and welfare of these mature finfish
Monday. May 3rd, 2021

Shrimp businesses invest in long-term development
Having posted double-digit growth last year despite COVID-19 and with opportunities stemming from new-generation free trade agreements, many shrimp enterprises
Wednesday. May 5th, 2021