Bến Tre to solicit investment in hi-tech agriculture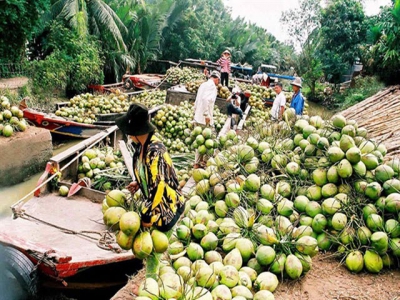 Publish date:
Wednesday. September 23rd, 2020
---
Ho Chi Minh City – The Cửu Long (Mekong) Delta province of Bến Tre will offer incentives to attract investments in hi-tech agriculture and in projects with high value-addition, according to its People's Committee.
Coconut processing is one of the key economic activities in Bến Tre Province in the Cửu Long (Mekong) Delta. VNA/VNS Photo
Nguyễn Hữu Lập, deputy chairman of the People's Committee, said the province sought to become a hub for agricultural production and distribution associated with eco-tourism.
It would continue to improve its business climate and introduce incentives for investments in agriculture and rural development, he said.
Bến Tre has identified two key industries, seafood processing and coconut processing, and seven other priority areas: garment supporting industry; animal feed; chemicals; machinery, electronics, telecommunications, information technology, and software; livestock processing; and renewable energy.
It has the largest area under coconut in the country, ​​more than 73,000ha, and grows 626 million nuts a year.
Coconuts are a key source of raw materials not only for agriculture but also processing industries.
The province would amend policies to attract investment in infrastructure in industrial zones, and for start-ups to mobilise economic sectors to participate in industrial development, Lập said.
It would solicit investment in agricultural and seafood processing, especially and livestock shrimp, supporting industries and clean energy, he said.
It would continue to improve the investment environment and enhance dialogue with and meet businesses to resolve their difficulties, he said.
It would also continue to reform administrative procedures and update regulations related to production, he promised.
It would improve trade promotion and market forecast and step up support for businesses using e-commerce and seeking to expand, he added.
---
Related news

Small cashew nut processors shut down as raw material becomes too expensive
Vietnam's cashew industry has suffered heavily as raw material prices have increased sharply, while the finished product prices have decreased.
Tuesday. September 22nd, 2020

Will technical barriers imposed by the Philippines create difficulties for Vietnam's rice
Will technical barriers imposed by the Philippines create difficulties for Vietnam's rice exports?
Tuesday. September 22nd, 2020

Vietnam emerges as the world's No2 rice exporter
Vietnam has beaten Thailand to become the second biggest rice exporter in the world after the latter decided to slash rice exports due to prolonged drought
Wednesday. September 23rd, 2020