Asia Coffee-Vietnam prices tepid on low demand, ample supplies in Indonesia, Brazil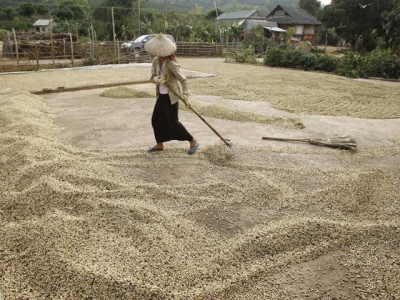 Publish date:
Monday. September 21st, 2020
---
HANOI/BANDAR LAMPUNG, Indonesia - Vietnam coffee prices were subdued due to weak demand and ample supplies in Indonesia and Brazil, though global prices rose, traders said on Thursday.
A woman rakes coffee beans while drying them at her house in Son La province, west of Hanoi, November 19, 2012. Photo: Reuters
Farmers in the Central Highlands, Vietnam's largest coffee growing area, sold coffee at 32,600-33,000 dong ($1.41-$1.42) per kg, up from 32,000 dong a week earlier.
September robusta coffee settled up $40, or 3%, at $1,357 per tonne on Wednesday, its highest level in nearly six months.
"Market prices rose in the past week following the surge in London prices," one of the traders based in the coffee belt said.
"But only a few transactions took place this week due to low stock in Vietnam but ample supplies in Brazil and Indonesia."
Although the weather now is favourable for baby cherries to grow well, the National Hydrology Meteorology Forecast Center last week said that it was likely to rain heavily in the Central Highlands in November.
"That would seriously affect cherries picking and drying process and would hurt the beans' quality. I'm so worried," another trader based in the region said.
Traders in Vietnam offered 5% black and broken grade 2 robusta at a $160 premium per tonne to the September contract, down from $200-$220 premiums range last week.
Another trader quoted $50 premium to the November contract.
Meanwhile, Sumatran robusta beans in Indonesian province of Lampung are being offered with $250 premium to the September contract, compared to a range of $250-$280 premium last week, one trader said.
Another trader quoted $250 premium to the August, September and October contracts.
"The premium dropped this week due to increasing supply of beans amid harvest," one of the traders said. "Supply is higher in the market this week, while demand is muted."
---
Related news

Vietnamese cashew nuts to be on tables of European countries
The EU-Vietnam Free Trade Agreement (EVFTA) is an opportunity for Vietnamese cashew nuts to export directly to the EU market
Saturday. September 19th, 2020

Should Vietnam pursue hi-tech or ecological agriculture?
In an agricultural ecosystem, the impact caused by humans, such as a decline in biodiversity, which affects food chains and food networks, has created more risk
Saturday. September 19th, 2020

US increases Vietnamese fruit imports
The end of the second quarter of the year saw the country's fruit and vegetable exports to the US enjoy a surge of 9.8% to US$77 million.
Monday. September 21st, 2020