US increases Vietnamese fruit imports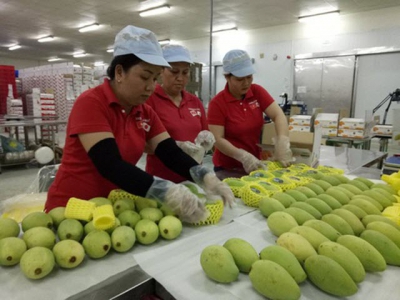 Publish date:
Monday. September 21st, 2020
---
The United States imported 302 tonnes of mango, guava, and mangosteen from Vietnam worth US$850,000 during the opening five months of the year, representing a 1.8-fold increase on-year, according to statistics released by the General Department of Vietnam Customs.
The end of the second quarter of the year saw the country's fruit and vegetable exports to the US enjoy a surge of 9.8% to US$77 million.
The increase indicates that these fruits are popular among US consumers, creating a wealth of opportunities for local firms to boost their exports of the fruits to this demanding in the near future, said the Ministry of Industry and Trade (MoIT).
However, statistics show the amount of Vietnamese fruits exported to the US remains rather small, making up just 0.1% of the country's total imports in the first five months of the year.
Meanwhile, June alone witnessed Vietnamese fruit and vegetable exports to foreign markets fall by 7.1% to US$257.3 million in comparison to May, resulting in the total export value during the first half of the year declining 13.6% to US$1.76 billion.
Vietnam managed to bag US$1.04 billion from exporting fruit and vegetables to China in six months, representing a decrease of 29.3% on-year. By contrast, exports to other markets such as the Republic of Korea, Thailand, the US, Japan, and Taiwan (China) obtained rapid increases.
The sharp increase recorded in these markets has yet to offset the reduction in the Chinese market during the reviewed period. Despite this, the northern neighbour, as the country's traditional export market, has reduced its imports of fruit and vegetables, according to the MoIT.
Currently, Thailand is increasing the import of fruits and vegetables to meet the demand for its processing industry, and Vietnam emerges as a potential trading partner.
Singapore is also potential consumer of Vietnamese fruits. According to the Vietnam Trade Office in Singapore, approximately 50 tonnes of local lychees were shipped to the Singaporean market from Hai Phong in June.
Elsewhere, Vietnamese businesses recently exported first batches of lychees to Japan, a very demanding market in Asia, paving the way for Vietnamese fruits to penetrate other markets worldwide.
With the EU, the Vietnam Trade Office in the Netherlands said its large market size and seasonal demand has made the EU an attractive market for suppliers in developing countries, including Vietnam.
---
Related news

Exports of fruits and vegetables to Thailand surge 230%
Vietnam's export turnover to Thailand tends to decrease, however the turnover of fruits and vegetables has achieved animpressive increase.
Saturday. September 19th, 2020

Vietnamese cashew nuts to be on tables of European countries
The EU-Vietnam Free Trade Agreement (EVFTA) is an opportunity for Vietnamese cashew nuts to export directly to the EU market
Saturday. September 19th, 2020

Should Vietnam pursue hi-tech or ecological agriculture?
In an agricultural ecosystem, the impact caused by humans, such as a decline in biodiversity, which affects food chains and food networks, has created more risk
Saturday. September 19th, 2020