30% of Vietnams shrimp export turnover comes from Ca Mau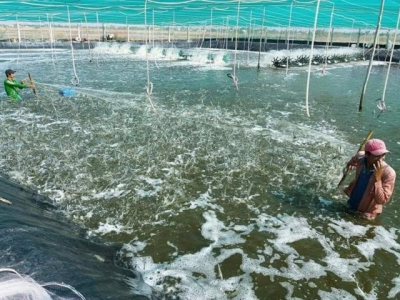 Author:
Trong Linh - Translated by Samuel Pham
Publish date:
Tuesday. March 22nd, 2022
---
Ca Mau's seafood export turnover in 2021 reached over USD 1 billion, ranking among the top in Vietnam. The province has shrimps as the main product.
Ca Mau province currently has over 30 enterprises with a total number of 38 shrimp processing factories for exports. Photo: Trong Linh.
As shared by Mr. Nguyen Van Do, Director of Ca Mau Department of Industry and Trade, the local seafood export in 2021 reached over USD 1.1 billion which exceeded the set target. This result was thanks to businesses having maintained the dual goals of disease prevention and production development.
The 2021 export market seems to have worked in Vietnam's favor. Seafood exports to China decreased sharply, but in return markets from the USA, Japan, Korea and the EU all showed a significant increase in turnover, especially after Vietnam signed the FTAs.
Mr. Nguyen Minh Tuan, Director of Minh Cuong Seafood Import-Export Processing Joint Stock Company (Tac Van commune, Ca Mau) shared, "After the social distancing, businesses simultaneously boosted production, so there was a shortage of raw materials at first, but the situation was soon stabilized."
According to Mr. Nguyen Van Phuc, Head of Agriculture and Rural Development Office of Thoi Binh district, thanks to favorable weather conditions, giant freshwater prawns grow well. The yield increased, reaching an average amount of 3 tons/ha. The current selling price ranges from VND 90,000 to 110,000/kg and decreases by VND 10,000 to 20,000 depending on the size of harvested shrimps.
Due to the impact of the Covid-19 pandemic, the price of giant freshwater prawns suffered a decrease by approximately 10% over the same period, but the productivity of farmed shrimp was still at a very high rate.
Thanks to good harvest, Mr. Trinh Thanh Toan (Tan Bang commune, Thoi Binh district) earned an estimated VND 60 million from his family's over 2 ha of cultivated land.
"The effects of Covid-19 are certain, so people intercropping giant freshwater prawns in the rice-shrimp model were once worried about the output. But looking at the current state: one shrimp harvested is one shrimp sold. The output is quite good despite the low market price, so people are contented with the overall result," said Mr. Toan.
Ca Mau shrimps are now present in over 90 countries and territories, with the four main markets being the US, Japan, EU and China.
The province's shrimp farming area accounts for 45% of the Mekong Delta region - 40% of the whole country, and the shrimp output accounts for 29% of the Mekong Delta region - 22% of the whole country. The annual shrimp export value is nearly USD 1 billion, equivalent to 30% of Vietnam's shrimp export value.
Ca Mau shrimp has been certified by many international organizations at present such as ASC, BAP, GlobalGAP, EU, Naturland, and Seafood Watch.
The province has over 30 enterprises with 38 shrimp export processing factories equipped with top-tier advanced and modern technologies compared to the region and the world. Processing capacity can reach above 250,000 tons of raw shrimp/year. Most of the factories here meet international standards (SA-8000, ISO 26000, ISO-9001, BRC, B.A.P...).
In the 2015 - 2020 period Ca Mau's seafood processing output for export reached 700,000 tons, with an export turnover of nearly USD 5.6 billion. Ca Mau continues to be one of the leading provinces in the country in terms of shrimp exports, taking pride in having prosperous blue economy.
---
Related news

Seafood exports face many difficulties in 2022
After overcoming difficulties in 2021, Vietnam's seafood exports are forecast to continue to face many challenges in 2022.
Saturday. March 19th, 2022

Great expectations for pangasius export
As a key export product of Vietnam's seafood sector, pangasius exports in the past two years have suffered many obstacles. Businesses expected that in 2022
Saturday. March 19th, 2022

Pangasius exports target US$1.7 billion in 2022
2021 has been a challenging time for Vietnam's pangasius industry and it's expected that 2022 will be a good year for exports.
Tuesday. March 22nd, 2022