Pangasius exports target US$1.7 billion in 2022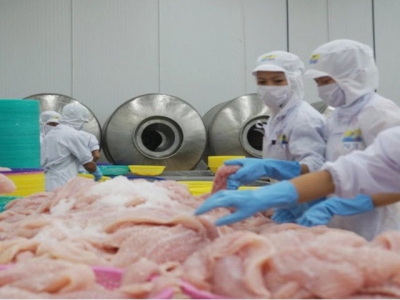 Author:
Thanh Son - Translated by Mai Tham
Publish date:
Tuesday. March 22nd, 2022
---
2021 has been a challenging time for Vietnam's pangasius industry and it's expected that 2022 will be a good year for exports.
Pangasius exports will thrive in 2022. Photo: Thanh Son.
According to Vietnam Association of Seafood Exporters and Producers (VASEP) pangasius was among the seafood products seriously impacted by the coronavirus pandemic in 2021, especially in the third quarter.
During the fourth wave of the pandemic, the southern provinces had to impose prolonged social distancing measures resulting in the disruption and suspension in farming and trade of pangasius.
Meanwhile the input costs in pangasius production including the costs of feed, packages and additives increased sharply along with additional costs for the implementation of "three-on-the-spot" measures and other expenses for disease prevention and control. Moreover transportation costs also increased by 8-10 times while processing capacity reduced significantly.
In the face of a wide range of problems, Vietnam's pangasius exports reached only US$295 billion in 2021, down 21% compared with the same period in 2020, thereby affecting the total export in 2021.
According toTruong Dinh Hue, General Secretary of VASEP. by the end of November 2021, Vietnam's pangasius exports reached only US$1.4 billion, up 3.3% compared to the same period last year. It's expected that the total pangasius export growth will be at 3% in 2021, equivalent to one sixth of the rate of the second quarter, reaching US$1.54 billion.
In spite of that, pangasius export still had good signs in 2021, especially the impressive growth in the US market. In the first 11 months of 2021, Vietnam's pangasius exports to the US reached US$324 million, an increase of 48% year on year. The strong growth in the US market made up for the sharp decrease from China -Hongkong , the largest export market of Vietnamese pangasius. In this period, the Chinese market imported pangasius valued US$376 million from Vietnam, down 22% over the same period last year.
US demand for white-meat fish products including pangasius from Vietnam increased in 2021 driven by economic recovery, easing coronavirus restrictions and American life back to normal. As a result, Vietnam's frozen pangasius fillet exports to the US have increasingly grown from the second quarter until now. Since the end of October 2021, average price of Vietnam's frozen pangasius was US$3.78 per kilo in the US market, US$0.55-US$0.588 higher over the June 2021.
Besides, demand for Vietnamese pangasius products has increased in Mexico, Brazil, Colombia, Russia and Egypt with growth rates between 44% and 88% in the first 11 months in 2021, contributing to the success of Vietnam's seafood export in the whole year.
According to Truong Dinh Hoe, pangasius production in 2022 will be at around 1.5 million tons, unchanged compared to 2021. Of which 300-400 tons will be consumed domestically, the remaining more than 1 million tons will be processed for export.
The Chinese market is expected to be back to stable in 2022. Last year, China significantly lowered pangasius imports as the country tightened Covid-19 restrictions for frozen seafood, leading to stagnation in trade at ports.
Meanwhile pangasius is still in great demand in the Chinese market and pangasius is still in short supply of in China during the peak Lunar New Year shopping season after Dongxing port (Guangxi province) suspended clearance of goods as required for Covid-19 prevention.
Hoe said if the Chinese market becomes more stable pangasius exports in general will see more opportunities to grow in 2022. Therefore China will remain the largest market of Vietnamese pangasius in 2022.
As for the US market, VASEP projected that it will be stable and unlikely to experience a spike as in 2021. It's the same for the EU and UK markets. Meanwhile pangasius exports to Mexico, Brazil, Colombia, Russia and Egypt are expected to continue to grow in 2022.
"The global market has gradually been recovering and seeing brighter pictures. It's expected that Vietnam's pangasius industry will continue to thrive in 2022 thanks to the effort from seafood enterprises and the support from the Government and State agencies. I think with this optimistic, Vietnam's pangasius exports will bring a turnover of US$1.7 billion in 2022, up 13% compared to 2020," said Truong Dinh Hoe, General Secretary of VASEP.
---
Related news

Businesses urged to invest in marine farming
Businesses investing in marine aquaculture contribute to sustainable development and building marine eco-systems
Friday. March 18th, 2022

Seafood exports face many difficulties in 2022
After overcoming difficulties in 2021, Vietnam's seafood exports are forecast to continue to face many challenges in 2022.
Saturday. March 19th, 2022

Great expectations for pangasius export
As a key export product of Vietnam's seafood sector, pangasius exports in the past two years have suffered many obstacles. Businesses expected that in 2022
Saturday. March 19th, 2022