Great expectations for pangasius export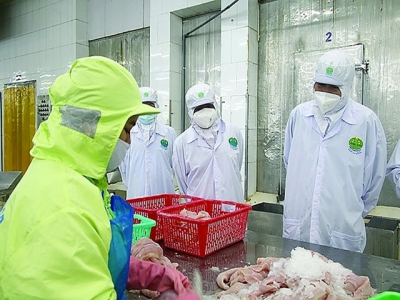 Author:
Le Thu - Ha Thanh
Publish date:
Saturday. March 19th, 2022
---
As a key export product of Vietnam's seafood sector, pangasius exports in the past two years have suffered many obstacles. Businesses expected that in 2022 there would be opportunities for pangasius exports to increase.
Processing pangasius for export in Dong Thap. Photo: K.O
Exports have recovered
As one of the leading pangasius exporters in the Mekong Delta, Vinh Hoan JSC is trying to close export orders at the end of the year. According to Vinh Hoan's report for 11 months of 2021, in November 2021, this company's export revenue (excluding Sa Giang Company) reached VND912 billion, up 38% over the same period last year and up 17% compared to October 2021.
This is also the month with the highest export revenue since the beginning of the year for Vinh Hoan. In which, pangasius was still its main export product with VND617 billion in revenue, up 30% over the same period but only 3% higher than last month.
By the end of November 2021, pangasius exports only reached US$1.4 billion, up 3.3% over the same period in 2020. It is expected that the whole year growth of the pangasius industry in 2021 would reach 3%, equal to 1/6 of the growth rate of the second quarter and reach the target of US$1.54 billion.
According to Truong Dinh Hoe, General Secretary of the Vietnam Association of Seafood Exporters and Producers, 2021 ended with a series of unpredictable difficulties with direct impacts of the pandemic on the country's economy, including the pangasius industry.
In 2020 the pangasius industry was "stranded" because of the blockade in key export markets, while from the third quarter of 2021, the pandemic in Vietnam has caused difficulties for the whole pangasius production and export industry, seriously affecting exports. In the third quarter of 2021, pangasius export turnover only reached US$295 million, down 21% over the same period last year.
Notably, China, Vietnam's largest pangasius import market, still faces many challenges. Although export activities have recovered, export turnover to China follows a downward trend.
In the first 11 months of 2021, export turnover decreased by 22% to US$376 million. Pangasius imports into this market continuously declined from the third quarter and lasted into the last months of the year. The reason is that since the 4th outbreak in Vietnam, China has applied more regulations to strictly control pangasius products, which will continue to affect the market trend in 2022.
Pressure on cost increase
In 2022, there will be many difficulties in exporting seafood, including pangasius. However, businesses expect that thanks to the Resolution 128/NQ-CP of the Government as well as the efforts of businesses, pangasius exports would continue to thrive.
Experiences in 2021 will help businesses confidently set higher plans for the next year. However, problems in 2021 may not be completely solved in 2022. There are still uncertainties and difficulties for pangasius farming and processing.
Regarding the export market, according to Hoe, after many months of closure due to the pandemic, economies have reopened to live with Covid-19. The policies to stimulate economic development parallel with high inflation, the pressure to increase the price of raw materials and input materials, the price of aqua feed increased continuously caused production costs to increase, labor shortage, electricity and labor costs to increase, and export market demand is struggling to grow. Besides, the pandemic is still complicated, making it difficult for businesses to maintain positive growth in the whole of 2022.
It is forecast that the Chinese market may maintain its position as the largest import market of pangasius in 2022. However, the market trend will continuously be affected by policies that tighten the control of imports both at the border and through official channels. Importers also face many challenges when new import regulations make high costs incurred at the port of destination and goods need to be put in cold storage for Covid-19 testing before being circulated, which prolongs the time. The cost for one import shipment is estimated to be twice as high as in the same period last year.
The European market in 2022 will struggle to have a growth spurt because sustainable results have not yet been seen. Besides, many markets can't stand the rising price of pangasius from the pressure of freight rates skyrocketing up to 10 times.
In addition to freight charges, in 2022, businesses are concerned about a shortage of raw materials. It is forecast that farmed fish output would be equivalent to 2021. While farmers face rising costs, pangasius export prices have trouble from market factors, transportation charges and barriers to control Covid-19.
"The pressure from the unreasonable increase in freight rates and no signs of cooling down is putting great pressure on the export of key seafood products, including the pangasius industry. It is recommended that the Government pay more attention to and intervene more effectively in international freight charges to avoid export disruptions, helping pangasius enterprises to be proactive in their 2022 export production plan," said Hoe.
Thanks to the efforts of businesses to adapt to supportive and flexible policies of the Government and State management agencies, the market picture is getting brighter. Hopefully, it will help the pangasius industry prosper in 2022, bringing in a turnover of US$1.7 billion, up 13% compared to 2021.
---
Related news

Vietnam's largest sea grape exporter - Learning lessons from failure
Experiencing failure for nearly ten years, Nguyen Quang Duy has succeeded in processing the sea grapes for export to Japan, the US.
Friday. March 18th, 2022

Businesses urged to invest in marine farming
Businesses investing in marine aquaculture contribute to sustainable development and building marine eco-systems
Friday. March 18th, 2022

Seafood exports face many difficulties in 2022
After overcoming difficulties in 2021, Vietnam's seafood exports are forecast to continue to face many challenges in 2022.
Saturday. March 19th, 2022