Vietnam aims for 6.5 million tons of rice exports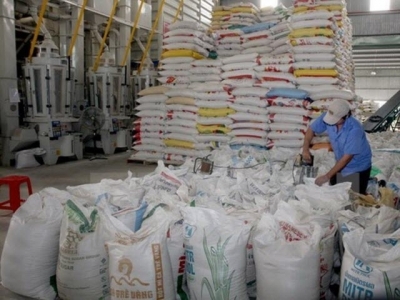 Publish date:
Friday. March 30th, 2018
---
In 2018, Vietnam set the target of exporting 6.5 million tons of rice, said Vice Minister of Agricultural and Rural Development Ha Cong Tuan to Vietnam News Agency.
Vietnam aims for 6.5 million tons of rice exports in 2018.
In the first two months, Vietnam shipped 861,000 tons of rice worth US$419 million, posting respective increases of 17 and 34% compared to the same period last year, according to the Ministry of Agriculture and Rural Development (MARD).
The Philippines is currently Vietnam's top rice importer with 26.9% of the total exported amount, followed by China (23.5%).
In particular, Vietnam's export price was higher than that of Thailand. In 2016, the average export price was US$435 per ton, which has increased to US$450 in 2017 and US$475 in 2018.
The higher price of Vietnamese rice is due to the products' high quality, Tuan told Vietnam News Agency.
"The positive results are thanks to the reforms of rice production, which increased product quality. Vietnam will be steadfast in exporting high-quality rice in the future."
Previously, Vietnam mainly exported low-grade rice IR 50404, however, the focus has now been shifted to high-quality rice. Accordingly, 81% of the rice exported in 2017 was of higher quality.
Vietnam's exports of agricultural, forestry, and fisheries products reached US$3.09 billion in the first month of 2018, an increase of 25.9% compared to last year, while rice exports reached 5.8 million tons in 2017 with US$2.6 billion, reported MARD.
The volume of rice exports in January alone reached 524,000 tons for a return of US$249 million, an increase of 56.5% in quantity and 74.2% in value compared to the same period of last year. The average export price in 2017 was US$451.9 per ton, increasing 0.7% over 2016.
The growth rate of the Vietnamese agricultural sector was set at 3%, while the targeted export value of agricultural products was US$40 billion, according to Prime Minister Nguyen Xuan Phuc's statement at MARD's January 4 meeting on the performance of the sector in 2017 and its plans for 2018.
---
Related news

Mekong Delta to grow other crops on 118,290ha of rice paddies
Some 118,290ha of rice fields affected by lack of water and saltwater intrusion in the Mekong Delta will be used to grow other crops or aquaculture this year
Thursday. March 29th, 2018

Ample opportunities in Vietnamese horticulture industry
The Vietnamese horticulture industry presents enormous opportunities for growers and suppliers.
Thursday. March 29th, 2018

Grasping chances for Vietnam's agricultural exports
Vietnam's agricultural and fisheries products have contributed significantly to the country's high value export in 2017.
Friday. March 30th, 2018