Grasping chances for Vietnams agricultural exports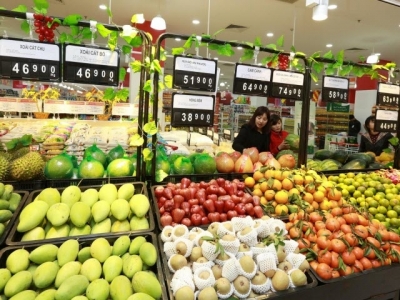 Publish date:
Friday. March 30th, 2018
---
Vietnam's agricultural and fisheries products have contributed significantly to the country's high value export in 2017.
Vietnam's agriculture set target for export value at US$37 billion - US$38 billion.
As such, export value from this mentioned goods category reached US$25.9 billion, up 16.9% compared to 2016, according to the General Statistics Office. By taking into account woods products, the total value went up to US$33.5 billion, an increase of 15% over 2016.
However, the export scale is still small compared with the efforts poured in. Comparing to 10 years ago, Vietnam's total export value has increased 4.4 folds, while agricultural exports only up 2.7 times.
Agricultural goods category includes 10 goods, but the export value is only equal to 74% of smart phones (US$45 billion in 2017), showing the low added value of agricultural products. For example, despite the quantity of pepper export up 20.9% in 2017, but export value decreased by 21.7%, mainly due to the fluctuation in global demands.
In 2017, total agricultural products imports reached US$13.6 billion. Fisheries export is estimated at US$8.3 billion, but material inputs import is of US$1.4 billion. Cashew export reached US$3.5 billion, while on the opposition, Vietnam has imported US$2.5 billion of cashew nuts.
Last year, Vietnam has also imported 7.8 million tones of corn worth US$1.5 billion in spite of having large areas of cornfields with advanced technology application. Vietnam's rubber export in 2017 was US$2.2 billion, but also imported up to US$1 billion of input.
Vegetables and fruits are the spotlight of Vietnam's export in 2017, with value up to US$3.5 billion, but has also imported US$1.5 billion, an increase of 68% over 2016.
In the end of December 2017, The first batch of Vietnamese star apples has been exported to the US by the Cat Tuong Agricultural Products Producing & Processing Co Ltd from the Mekong Delta province of Tien Giang. With the shipment, Vietnam has become the first and only country licensed to sell fresh star apples to the demanding market, which opened new hope for Vietnam's fruits and vegetable exports in 2018.
Previously, the Prime Minister Nguyen Xuan Phuc targeted the growth rate in Vietnam's agricultural sector to be at 3%, while export value for agricultural products to reach US$40 billion.
In 2017, the agricultural sector has attained 7 significant results, in which, the total export value reached an all time high of 36 billion USD. In 2018, the sector set the target of growth rate in range of 2.8 – 3%; with export value up to US$37 billion– US$38 billion.
In the coming time, the agricultural sector will continue its restructuring process, as the labor productivity is still lagging behind neighboring countries. At present, the agricultural sector only amounted to 16% of GDP, but over 42% of the total labor force.
In 2018, markets such as the US, Australia, Korea or Japan are expected to contribute to the impressive growth of Vietnam's export. As such, fruits and vegetables are becoming an advantage of Vietnam's export in international markets.
It is estimated that in 2018, Vietnam's export of fruits and vegetables will exceed the highest recorded value of rice export of US$3.67 billion in 2012, and before 2025 will reach US$10 billion per year, which is equivalent to the highest recorded value of crude oil export of US$10.4 billion in 2008.
The success in 2017 will create new status and momentum, as the development of agricultural export is both in the benefit of the short and long term. Vietnam is still a country heavily depended on agricultural production, as such, a strong growth of agricultural production will no doubt contribute to the economic growth.
---
Related news

Bến Tre pomelo, coconut GI certified
Green-skin pomelo and green Xiêm coconut, specialties of the Mekong Delta province of Bến Tre, have been granted geographical indication (GI) certificate
Thursday. March 29th, 2018

Mekong Delta to grow other crops on 118,290ha of rice paddies
Some 118,290ha of rice fields affected by lack of water and saltwater intrusion in the Mekong Delta will be used to grow other crops or aquaculture this year
Thursday. March 29th, 2018

Ample opportunities in Vietnamese horticulture industry
The Vietnamese horticulture industry presents enormous opportunities for growers and suppliers.
Thursday. March 29th, 2018