Vast untapped potential for fruit, vegetable exports to EU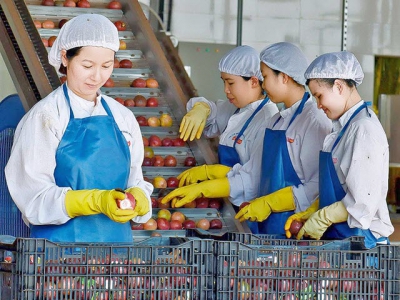 Publish date:
Monday. January 10th, 2022
---
The EU-Vietnam Free Trade Agreement (EVFTA) facilitates Vietnam's exports of fruit and vegetables to the EU. However, increasing logistics costs are hurting the competitiveness of Vietnamese fruit and vegetables.
Speaking at a webinar on exporting fruit and vegetables to the EU co-organized by the Ministry of Foreign Affairs, the Ministry of Industry and Trade and the Ministry of Agriculture and Rural Development, Deputy Minister of Foreign Affairs Nguyen Minh Vu said Vietnam is the only developing country in the Asia-Pacific region that has a free trade agreement with the EU, providing a huge competitive advantage.
Vietnamese Agricultural Counselor to the EU Tran Van Cong said that with the EVFTA, 94 percent of tariff lines for fruit and vegetables and their related products would be tax free, 86 percent of them immediately.
The EU has significant demand for novel and high-nutrient fruit and vegetable products, while Vietnam is intensifying efforts to improve its fruit quality and has already exported longan, lychees, jackfruit and fresh mango to Europe this year.
Lack of growing areas
Tran Van Cong said promoting Vietnam's exports of fruit and vegetables to the EU is hampered by a shortage of large growing areas to ensure quality and stable supply sources and of internationally certified enterprises meeting EU standards. Preservation and processing remain limited, while packaging and labeling are not eye-catching. There is still a lack of trade promotion programs and supporting tools to promote exports to the EU. In particular, transportation costs are too high, reducing competitiveness of Vietnamese fruit and vegetables, Cong said.
Nguyen Dinh Tung, board chairman of the Vina T&T Group, said not having EU officials in Vietnam for quality inspection of fruit and vegetables before exports is a difficulty and exporters have to face the risk of orders being cancelled on arrival in Europe. Tung suggested ministries and departments work together with enterprises to develop large growing areas. Businesses should also pay attention to EU regulations on food hygiene and safety, he said, adding that they also need to have full certificates of corporate social responsibility and environmental protection.
Ngo Tuong Vy, deputy director of the Chanh Thu Fruit Import-Export Company Limited, advised the government to develop a national strategy for at least three fruit and vegetable products.
Vietnamese Ambassador to the Netherlands Pham Viet Anh said Vietnam must increase growing areas and promote the application of scientific and technological achievements in farming to meet GlobalGAP standards.
The EU is a promising market for Vietnam with its annual fruit and vegetable imports of EUR35 billion, accounting for 45 percent of global trade in these products.
---
Related news

Farm produce exports to Australia grow despite COVID-19
Despite the difficulties in international trade activities brought on by COVID-19, exports of Vietnamese agricultural products to Australia
Saturday. January 8th, 2022

What do pigs say when humans are away?
Why is it important to know what animals do when humans are not around? This article explores the tremendous benefits of putting up the right cameras
Saturday. January 8th, 2022

One farm tried to make sustainable food affordable - Here's what happened
Become an example of a Black and Indigenous farmer who could make it work among the overwhelmingly white crowd of U.S. farm owners.
Saturday. January 8th, 2022