What do pigs say when humans are away?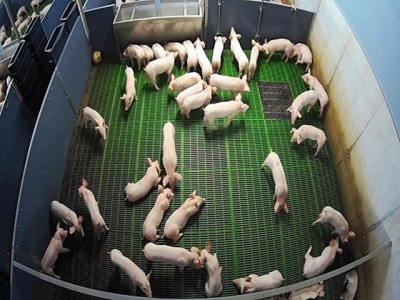 Author:
Tr.D (Pig progress)
Publish date:
Saturday. January 8th, 2022
---
Why is it important to know what animals do when humans are not around? This article explores the tremendous benefits of putting up the right cameras in the barn to monitor all pigs.
Regular camera view of a pig pen. - Photo: Serket
The idea of artificial intelligence (AI) brings self-driving cars and robots quickly to mind. However, there is a lot more to AI than meets the eye. For instance: the use of surveillance cameras on the farm. It is not a new concept, but what if these cameras could detect crucial behaviours that animals display – like eating, drinking, unique movements, and aggressive activities – by using artificial intelligence, deep learning algorithms and image recognition? Would that convince producers to put up cameras in their barn?
The IFC, a member of the World Bank Group, has seen that significant usage and investment have had a profound impact on the agricultural sector through the adoption of visual technologies, such as image recognition, cameras, robotics and more. Leveraging deep learning technologies for multi-object tracking and segmentation is truly a non-invasive way to incorporate autonomous livestock monitoring and is quickly becoming more popular on farms. This 21st century approach allows pig producers to focus on optimising their operations and focus less on the pigs and their pen.
Seeing is knowing
When farming started in Mesopotamia, people relied on their eyes to monitor the animals closely to detect any signs of illness. Today, farmers use the same solution, mostly relying on subjective and incidental methods such as periodic physical inspections. Unfortunately, they only have time to spend 1 second per day with each animal. This is disruptive and leads to unreliable results with negative outcomes, such as accidental overdose of antibiotics, and can potentially cause high mortality rates.
The majority of aggressive events happen when humans are not present. That is why farmers need a solution that will keep an eye on the herd and solve the problems efficiently at an early stage
Video frame with segmentation, tracking and activity classification of pigs. Photo: Serket
Pig farmers are being challenged
These are some of the challenges at the very heart of pig farming. The number of swine farms having to manage labour shortages, profitability, feed costs and herd health – including genetics, immunity, antimicrobial resistance and biosecurity – are steadily increasing. There has never been a better time to technologically shift to support industry and food safety at scale.
These cameras, computer vision and AI-based technologies can monitor pigs' physical activity, feeding patterns and overall aggressiveness, so farmers know all about their herd's well-being. These patterns allow for earlier and easier disease identification that leads to lower antibiotic usage.
Pigs are wonderfully social animals, but their behaviour – not only in nature but also in a group-house environment – is based on hierarchy. Aggression is the part of the behavioural repertoire that pigs use to determine hierarchy and to solve social conflicts in the group. If pigs are moved to new social groups during the different stages of production, aggression appears more frequently because they are forced to determine a new hierarchy in every new group.
In the case of group-housed sows, aggression is often considered an animal welfare problem. Through aggressive events, the animals often bite each other, causing them to suffer from injuries and stress over time. The majority of aggressive events happen when humans are not present. That is why farmers need a solution that will keep an eye on the herd and solve the problems efficiently at an early stage. This solution offers high definition camera vision technology that can observe every detail of livestock 24/7.
This technology is not just non-invasive and inexpensive, it's also scalable to all age groups. When an AI-supported algorithm starts analysing the camera images, the farmer gets real-time information about the aggressive events happening in the pen and all the relevant info about the pigs involved in the event. This crucial data enables farmers to intervene early and help the pigs before they suffer from visible injuries.
Mixing tradition with modernity
Nowadays, video cameras provide livestock health management with an innovative solution to help pig producers improve how they monitor the behaviour and welfare of their livestock, which reduces the use of antibiotics in pigs.
The process starts with the use of standard video cameras, available in most modern farms, to monitor livestock. But beware! Most computer vision algorithms perform poorly on this task. This is because:
Animals bred on farms look identical and lack any obvious spatial signature
None of the existing trackers are robust for long duration; and
Real-world conditions such as changing illumination, frequent occlusion, varying camera angles and the varying sizes of the animals make it hard for models to generalise.
That is why pork producers need to have a specialised camera to deliver the results they need. Serket, a Dutch software company, has developed AI and software solutions combined with cameras which are ideal for these challenges. For example, Serket has an end-to-end behaviour-monitoring system for group-housed pigs to perform simultaneous instance-level segmentation, tracking, action recognition and re-identification tasks.
This is 1 of the first end-to-end multi-object livestock monitoring frameworks that learns instance-level embeddings for grouped pigs. For benchmarking, a carefully curated manual dataset consisting of video sequences is analysed by animal scientists with segmentation, tracking and activity classification of pigs in a real indoor farming environment.
The images show an example video frame and annotation from a dataset. The first image is a regular camera view of the pen. The second shows the same video as an annotated frame with segmentation, tracking and activity classification of pigs. The colours denote animal actions. The numbers on each animal are its unique ID.
While common tasks like easy detection and object tracking lend themselves to pre-trained networks and existing datasets, monitoring livestock via video has unique challenges.
Pig monitoring in a closed farming environment creates confusing instances for computer vision modelling between similar looking pigs. The pig's aggressive behaviour causes abrupt motions and frequent occlusions and makes the pigs huddle on top of each other. These issues are seldom seen in traditional video datasets.
Livestock activities are also confined, repetitive and cyclical over time, which makes them different from traditional action datasets. To build robust models that can tackle the issues outlined above, customised datasets and accompanying solutions must be acquired. Any such dataset should capture the variability in conditions, and livestock's behaviour must be annotated under the supervision of expert animal scientists.
Conventional wisdom and AI innovation
Innovative AI solutions coupled with existing surveillance camera systems enable farmers to efficiently distribute their valuable time. Once these cameras and software systems are deployed at scale in pens, they provide coverage around the clock. When that happens, remote livestock monitoring can become a reality. As precision livestock farming continues to evolve and take on an elevated role, a large workforce may no longer be needed. This will allow farmers to direct their attention to individual animals who need help and to focus on ensuring their operations thrive.
---
Related news

Farming cobia in HDPE round cages in small-scale
On November 16, the delegates from the National Extension Center visited a model of rearing cobia in Norwegian-style HDPE round cages
Friday. January 7th, 2022

Flower farmers do not dare grow large quantities for Tết amid Covid uncertainty
Many flower and bonsai farmers in HCM City and the Cửu Long (Mekong) Delta have reduced production for Tết (Lunar New Year) which falls early next year
Friday. January 7th, 2022

Farm produce exports to Australia grow despite COVID-19
Despite the difficulties in international trade activities brought on by COVID-19, exports of Vietnamese agricultural products to Australia
Saturday. January 8th, 2022