Top tips for setting up a recirculating aquaculture system (RAS) - Part 1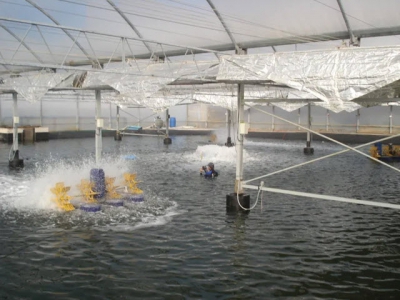 Publish date:
Thursday. December 24th, 2020
---
Recirc systems are one of the boom areas in aquaculture at the moment, with new facilities being designed and built all over the world. It's still a very young part of the sector, however, and it sometimes feels like there are more RAS facilities out there than there are specialists in running them.
A shrimp RAS. Photo: Dr Bill McGraw
After nearly 50 years in aquaculture – including stints spent managing several RAS facilities – Andrew Leingang decided to ask a panel of experts exactly what factors should be taken into account by anyone considering establishing a RAS. In the first instalment of a two-part article, he offers some valuable insights into the world of recirc, including how to attract finance and key factors to consider in terms of setting up the system.
Introduction
Aquaculture has been around for centuries. Although it is still largely a pond and cage industry, recirculating aquaculture systems (RAS) have advanced over the past 40 years to become an increasingly viable option for a range of species and life stages. RAS are challenging, exciting, and many see them as the only way to ensure future world seafood security.
Some of the many benefits of RAS include the ability to locate close to population centres and markets, the ability to control temperature for year-round production, and the avoidance of weather extremes. RAS make it possible to raise fish in any climate and location. No matter the temperature outside, it should always be optimal inside the facility. Seasonal water temperature variations will not dictate growing seasons, and daily water temperature fluctuations will not stress fish, thereby reducing disease and mortality. RAS optimise temperature control for both warm and cold water species. And because the water is recirculated, heating and cooling costs are reduced. Growing marine fish away from the coast, done. Growing fish near big cities, done. The caveat is that sufficient good quality water must be available nearby or shipped-in for make-up water or emergencies.
The downsides include high initial costs and high risks due to high stocking densities – mechanical or human error, can lead to potential losses of stocks and money. RAS are not immune to natural disasters, of course, which can have a negative or devastating impact. Disaster events can cause road closures, power disruptions, delayed feed and liquid oxygen deliveries and staff absenteeism.
Fishponds and cages have not changed much over the years, and are fairly uniform in design. RAS are diverse and are constantly changing, with new technology developed around the world. There are many successful RAS businesses, but in the past, many more failures than successes.
It all starts with the efficient and economical performance of the system.
I am not going to compare RAS systems specifically, as the information would quickly become outdated. I don't represent any RAS brands. I reached out to some RAS designers for their comments. There are many well-establish and reputable firms. Although the physics, chemistry, and biology behind RAS are the same, RAS designs and equipment are varied and reflect the vision of the RAS designers themselves.
RAS is essential for certain areas in aquaculture, especially for marine fish. Broodstock and juvenile production would be difficult and sub-optimal if carried out in flow-through or static systems (ponds and cages). RAS grow-out has its benefits, but also extreme high-risks, as key elements (oxygen and filtration) are subject to catastrophic failures.
Extensive and semi-intensive outdoor ponds, raceways, lake and sea cage production, will always be the least cost and lowest risk. But these systems have risks too, such as oxygen depletions, predators, disease, algae that produces toxins or off-flavours, storms, theft and limited growing seasons.
It doesn't matter if you are planning a small backyard RAS or a multi-million dollar facility, these "Do's and Don'ts" from industry experts will be invaluable.
You will not find all the answers to your RAS questions here. You may find more questions, questions that are unique to your business. Only you can find the answers. But I am sure the ideas presented here will be helpful.
Before we start, I'd like to clarify that I use the words "fish" and "species" to cover any aquaculture crops, including plants. My thoughts will begin each section, while our expert contributor's recommendations are inserted in italics. Let us begin!
The author sampling barramundi at a farm in Queensland
Sales
Like most successful businesses, we should start at the end, and not at the beginning. Many are enamoured with the new shiny RAS, the animals, the metrics of production, costs and efficiency. But what about customers, farm gate prices and seasonal price fluctuations? Assumptions – such as the highest and lowest sales prices, estimated volumes the market can handle and competition – are just assumptions. Using inaccurate farm gate prices to predict profit/loss is dangerous.
Once the sales price and volumes are established, then the size of the RAS facility, water volumes, and production goals can be determined. Too many business plans work off a breakeven figure. Breakeven is too close to a loss. If there is not much chance of making a profit, then it is wise not to proceed.
Remember you can lose your customers anytime to cheap imports, even if your product is superior. Find a species or product form (for example, live, or further processed), that is partially immune to local and international competitors.
As Ben Pohlner, an Australian-based aquaculture and environmental consultant for project planning, design, and operation, explains: "Marketing and sales can be a nightmare. Just accept that for the bulk of your product, you will be a price taker, not a price maker. Do your research on auction floor prices over at least a decade, this will give you a good feel for the baseline price of your product. Use this in modeling and budgets. You may find some niche markets for smaller volumes, but you want to know what the bottom line is at maximum production."
Philip Lim Kok Wee, director of seafood trading and an aquaculture consultant based in Kuala Lumpur, adds: "Traditionally, it is recommended to be competitive in the marketplace, use the 4P's: Product branding, Price, Place, and Promotion. We should now add Support to become the 4P's + 1S!"
"What product values are being missed in your target audience? Species, sizes, reliability, freshness, packaging, texture, taste, volume, and value added, should all be considered," argues Dr James Steeby, an extension aquaculture specialist with over 40 years' experience in the US catfish industry.
---
Related news

Biomass - the billion-dollar shrimp question - Part 1
As part of the on-going series on The Fish Site, the shrimp farming experts at Alune outline the current techniques for measuring shrimp biomass
Wednesday. December 23rd, 2020

Biomass - the billion-dollar shrimp question - Part 2
When using a nursery phase pond, the transfer to grow-out is an opportunity to accurately estimate biomass in a way unachievable in grow-out ponds
Wednesday. December 23rd, 2020

Krill oil shown to enhance growth and survival of post-larval shrimp
The use of growth-enhancing astaxanthin krill oil in the post-larval diet of shrimp could shorten the production cycle and reduce mortality
Wednesday. December 23rd, 2020