The implications of breeder diets on the progeny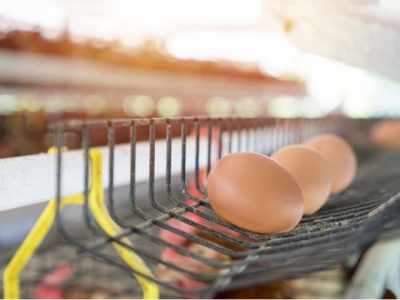 Publish date:
Monday. December 30th, 2019
---
Despite advances in genetics and management, metabolic and skeletal disorders are common among commercial poultry, leading to high mortality rates and large financial losses for producers.
The situation is further exacerbated by increasing restrictions on antibiotic growth promoters used to make birds resilient to intensive production processes.
Increasingly, though, there is interest in seeing if birds can be set up for success in the egg, to help minimize the need for treatment interventions later on, to improve efficiencies and to make the industry more sustainable.
Dr Elijah Kiarie, assistant professor, University of Guelph, in Canada will be presenting on the benefits of perninatal nutrition for poultry, how it can improve growth, productivity and welfare.
Omega-3 fatty acids (FA) and yeast derivatives
His presentation will reveal the findings of new research into perinatal nutrition and the lifelong impact of feeding breeding poultry and their progeny with functional dietary components, namely omega-3 fatty acids (FA) and yeast derivatives.
Dr Kiarie will discuss the critical importance of the embryo to post-hatch interface for physical development, productivity and welfare.
He will also provide insights on the impact of omega-3 fatty acids on skeletal development in embryo to early chick and point of lay. He will also look at transgenerational impact of omega-3 fatty acids on growth performance and breast yield in broiler chickens.
Dr Kiarie will also share his expertise on how feeding breeding broilers with yeast bioactives impacts hatching egg yolk antibodies concentration, progeny growth performance and resistance to coccidiosis.
Join us at YAN20​​ in Amsterdam on 3-4 March 2020 to hear this University of Guelph speaker along with a raft of industry and academic experts on the benefits of early life feeding for pigs and chickens.
---
Related news

Organic livestock rule withdrawal court challenge advances
Court confirms USDA caused organic industry harm by withdrawing organic livestock rules.
Wednesday. December 18th, 2019

Crossbred breeding value accuracy depends on genetic correlations
Accuracy of breeding value estimates may be higher using crossbred instead of purebred data, especially when genetic correlation is low.
Thursday. December 19th, 2019

Activity level of broilers decreases as birds age
Study validates ultra-wideband tracking system for monitoring group-housed chicken activity levels.
Monday. December 30th, 2019