Activity level of broilers decreases as birds age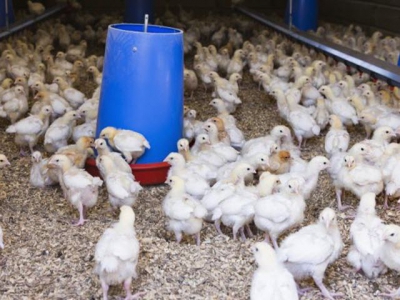 Publish date:
Monday. December 30th, 2019
---
Study validates ultra-wideband tracking system for monitoring group-housed chicken activity levels.
The activity level of group-housed broilers decreases as birds grow older, according to a study by Wageningen University & Research (WUR) in the Netherlands that implemented and validated an ultra-wideband (UWB) tracking system.
According to the WUR announcement, individual birds were fitted with UWB tags on their back, while four receivers in the environment could receive signals from these tags. Using these signals, the position of the animals could be determined, and their activity levels could be calculated based on the distances they moved over time.
In this study, a moderately strong correlation was observed between the distance recorded on video and the distance recorded using the UWB tracking system, WUR said. Furthermore, with the UWB tracking system, an overall decrease in activity over time was detected, and it was found that, on average, lightweight birds were more active than heavier birds.
Overall, when the same system settings are applied for all animals, the UWB tracking system appears well suited for monitoring individual levels of activity in broilers, WUR said. Using this system, longitudinal data on individual levels of activity can be collected, which can potentially be used as proxy for health, welfare and performance.
Broilers are often kept in large groups, which makes it difficult to identify individual birds and record their activity levels, WUR said, which is why the suitability of a UWB tracking system to track individual levels of activity of broilers was investigated.
Two approaches
To validate the UWB system, two approaches were implemented. First, a comparison was made between the distances moved that were recorded by the UWB system and the distances recorded on video. Second, a study recorded the individual activity levels of broilers and assessing group-level trends in activity over time, which could be compared to known activity trends from the literature.
This was a joint study by WUR and Utrecht University, in collaboration with Cobb Europe and Breed4Food, and was recently published in the scientific journal Animals.
Source: WUR, which is solely responsible for the information provided and is wholly owned by the source. Informa Business Media and all its subsidiaries are not responsible for any of the content contained in this information asset.
---
Related news

Organic industry sues over USDA withdrawal of livestock standards
Court challenge seeks to immediately vacate USDA's rescission and allow law to go into effect.
Wednesday. December 18th, 2019

Organic livestock rule withdrawal court challenge advances
Court confirms USDA caused organic industry harm by withdrawing organic livestock rules.
Wednesday. December 18th, 2019

Crossbred breeding value accuracy depends on genetic correlations
Accuracy of breeding value estimates may be higher using crossbred instead of purebred data, especially when genetic correlation is low.
Thursday. December 19th, 2019