Study suggests antibiotic use alters soil response to manure application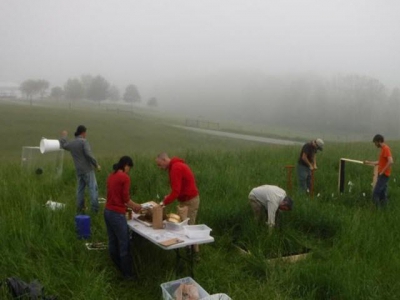 Publish date:
Wednesday. November 20th, 2019
---
Soil microbiome and ecosystem functions found to respond to exposure to manure from cattle administered an antibiotic.
For the study, researchers analyzed soil ecosystems exposed to manure from cattle given no antibiotics and manure from cattle given an antibiotic, as well as a control sample not exposed to manure.
A new study led by Colorado State University and the University of Idaho found multiple effects on soils from exposure to manure from cattle administered an antibiotic, including alteration of the soil microbiome and ecosystem functions, soil respiration and elemental cycling, according to an announcement from Colorado State.
The team also saw changes in how plants allocated carbon below ground and took up nitrogen from the soil. In addition, they observed a decrease in ecosystem carbon use efficiency, which means that when antibiotics are used, less carbon is stored in the soil and more is lost to the atmosphere as carbon dioxide, the announcement said.
The study, "Prolonged Exposure to Manure from Livestock-Administered Antibiotics Decreases Ecosystem Carbon-Use Efficiency & Alters Nitrogen Cycling," was published Oct. 9 in Ecology Letters.
For the study, the researchers analyzed ecosystems exposed to manure from cattle given no antibiotics and manure from cattle given an antibiotic (pirlimycin, which is indicated for the treatment of subclinical and clinical mastitis in dairy cattle) as well as a control sample that was not exposed to manure. All of the manure samples were collected from standard dairy operations maintained by researchers with the Virginia Tech department of dairy science.
According to Colorado State, with previous studies on this topic, researchers injected antibiotics into manure and then added it to the soil or added raw antibiotics to the soil, explained lead author Carl Wepking, a postdoctoral fellow in the Colorado State department of biology. The design of this study offered a much more realistic and applicable design, he said.
The research team also used a pulse-chase experiment -- a technique to examine elemental cycling -- focusing on the manure's effect on whole ecosystems. Scientists took samples over the course of seven days and found that in the presence of antibiotics, carbon traveled into the above-ground plant material, to the roots of the plants and into the soil and respired back out as carbon dioxide much faster than any of the others, the announcement said.
"There was much less of that new carbon retained in the system compared with other soils we sampled," added Wepking, who also serves as executive director of the Global Soil Biodiversity Initiative, which is housed in the School of Global Environmental Sustainability at Colorado State.
Co-authors of the study include Michael Strickland and Jane Lucas with the University of Idaho; Brian Badgley, John Barrett, Katharine Knowlton and Sarah Shawver with Virginia Tech; Kevan Minick with North Carolina State University, and Partha Ray with the University of Reading in the U.K.
---
Related news

The blue dimensions of aquaculture
Aquaculture has been responsible for the growth in supply of fish for human consumption. In order to meet the demand for food for a growing global population
Monday. November 4th, 2019

From bench to belly: Driving supply-side solutions for the future of fish feed
Recent models have shown fisheries collapse under business as usual scenarios. A collapse of this supply would be a disaster.
Thursday. November 7th, 2019

Climate lessons could inform antibiotic resistance challenge
Rising antimicrobial resistance could be curbed with framework inspired by climate change targets.
Tuesday. November 19th, 2019