Seafood export faces numerous barriers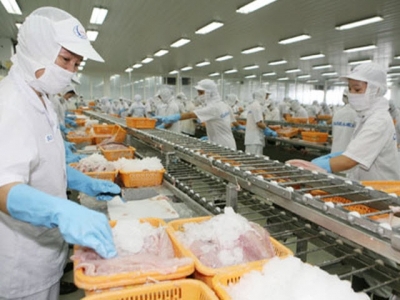 Author:
The Saigon Times Daily
Publish date:
Tuesday. April 10th, 2018
---
Despite strong outbound sales so far this year, Vietnam's target of earning US$9-10 billion from seafood exports in 2018 may prove tough due to numerous technical barriers being set up in major markets, Nguoi Lao Dong newspaper reports.
According to the General Department of Vietnam Customs, seafood export revenue as of mid-March 2018 reached US$1.37 billion, up 17% versus the year-ago period, making seafood one of the eight products with export revenue of over US$1 billion.
While these figures show a good signal, enterprises said it would be difficult to attain the target of US$9-10 billion this year.
Truong Dinh Hoe, secretary general of Vietnam Association of Seafood Exporters and Producers (VASEP), said the preventively-high antidumping tariffs slapped on Vietnam's tra fish stateside have cast a shadow on the country's seafood exports.
VASEP and its member enterprises have objected to the U.S. Department of Commerce (DOC)'s recent decision imposing unreasonable anti-dumping duties on Vietnam's tra fish in the 13th Period of Administrative Review (POR).
"Other importers of Vietnam's tra fish also suffer a psychological impact," said Hoe, explaining that American importers and others are awaiting the final say on the matter, which cause Vietnamese exporters to lose opportunities.
Data from the Ministry of Industry and Trade shows Vietnam's tra fish exports to the U.S. last year already tumbled against the previous year to just US$344.5 million, largely owing to anti-dumping tariffs and the August catfish inspection from the U.S. Tra fish shipments to the U.S. in the last three months of 2017 saw a deeper contraction of 30%.
Besides tra fish, plenty of outbound aquatic products of Vietnam, especially shrimp, have been facing intense competition in recent times given rising trade protectionism in various markets.
The preliminary result of the Vietnamese shrimp anti-dumping review issued by the DOC in POR12 put the highest tariff in 13 periods of administrative review, preventing Vietnamese enterprises from shipping shrimp to this market.
In addition, the European Union (EU), which overtook the U.S. as Vietnam's largest seafood buyer in 2017 with US$1.48 billion, has also turned more reserved towards Vietnam's seafood by issuing the yellow card.
Although the Chinese market is Vietnam's largest shrimp importer and an important tra fish buyer leapfrogging the EU market, there are also uncertainties due to large trade volume over the border, at some 44%. The secretary general of VASEP said it is difficult to control the quality of seafood in border trade, which may affect Vietnam's seafood exports to this market in the future.
---
Related news

Vietnam seeks to develop aquaculture sustainably
Minister of Agriculture and Rural Development Nguyen Xuan Cuong highlighted Vietnam's determination to fight illegal, unreported and unregulated (IUU) fishing
Saturday. April 7th, 2018

VN's 2nd shrimp industry exhibition to be held
An exhibition and trade fair on technology for the shrimp sector will be held from April 27 to 29 in the southern province of Bạc Liêu.
Monday. April 9th, 2018

Measures sought for fisheries sector's sustainable development
Representatives from 28 coastal localities nationwide gathered at a conference in the south central coastal province of Khanh Hoa on April 5 to seek measures
Monday. April 9th, 2018