Rice price surges 18 pct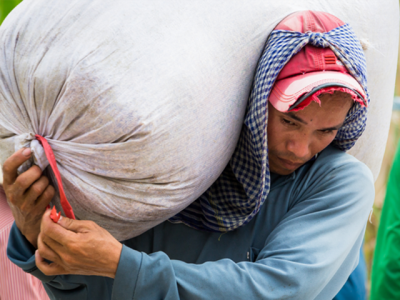 Publish date:
Friday. May 7th, 2021
---
Vietnam's rice price in the first two months surged 18.2 percent year-on-year to $547.9 per ton, but with lower volume in most markets.
A farmer carries a bag of rice in the southern city of Can Tho. Photo by VnExpress/Thanh Tran.
Total volume fell 29.4 percent to over 656,000 tons, according to Vietnam Customs.
The Philippines remained the largest importer but with volume down 28 percent year-on-year to 256,000 tons.
Other markets that saw volumes drop by double-digits include Malaysia (–75 percent), the United Arab Emirates (–56 percent) and E.U. (–23 percent).
China claimed second place with a 140-percent increase to 159,200 tons.
Strong rises in volume were seen in Taiwan, up 80 percent, and France, up 47 percent.
Vietnam's rice exports grew by 9.3 percent last year to $3.07 billion, according to the Ministry of Industry and Trade.
---
Related news

Vietnam's rice price for export rises in Jan-Feb
Vietnam saw the rice export price in the first two months of 2021 expand 18.2% year-on-year and reach an average US$547.9 per ton
Friday. May 7th, 2021

Black pepper price increases due to shortage of supply
The price of black pepper is currently at VND70,000 (US$3.02) per kilogram, doubling that in April, 2020. From May, 2020 till now, the price of black pepper
Friday. May 7th, 2021

Cassava exports, prices jump on surging China demand
Vietnam exported $256 million worth of cassava and cassava products in the first two months of the year, a 77.9 percent year-on-year increase
Friday. May 7th, 2021