Cassava exports, prices jump on surging China demand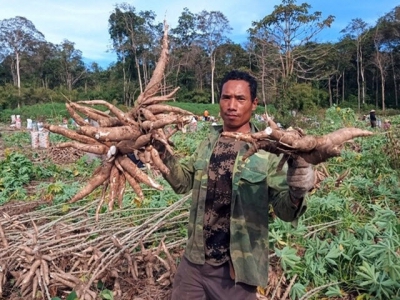 Publish date:
Friday. May 7th, 2021
---
Vietnam exported $256 million worth of cassava and cassava products in the first two months of the year, a 77.9 percent year-on-year increase, with China being the biggest market.
Farmers harvesting cassava in the central province of Binh Thuan, January 2021. Photo by VnExpress/Viet Quoc.
China accounted for over 95 percent of exports in January, with prices rising by 69 percent year-on-year to $242.2 per ton.
According to the Vietnam Cassava Association, a number of local processing factories face a short supply though the harvest season has begun.
Local prices are expected to reach record levels by the end of the harvest since most of it would be exported to China at high prices, which have reached $270 FOB at Quy Nhon Port.
China has huge demand for cassava as a replacement for corn, whose global prices are surging, to feed pigs.
"According to figures compiled by China Customs, Chinese imports of cassava chips increased by 22 percent last year to $782.85 million, while cassava starch imports rose 16.1 percent to $1.13 billion.
Last year, Vietnam's cassava and related product exports reached $989 million, a year-on-year increase of 2.4 percent. Their average export price was $358.3 per ton, down 6 percent."
---
Related news

Japanese GI certificate: "Passport" for Luc Ngan lychee to enter fastidious markets
Luc Ngan lychee is the first product of Vietnam that has been officially granted a geographical indication (GI) certificate in Japan.
Thursday. May 6th, 2021

Vietnam's rice price for export rises in Jan-Feb
Vietnam saw the rice export price in the first two months of 2021 expand 18.2% year-on-year and reach an average US$547.9 per ton
Friday. May 7th, 2021

Black pepper price increases due to shortage of supply
The price of black pepper is currently at VND70,000 (US$3.02) per kilogram, doubling that in April, 2020. From May, 2020 till now, the price of black pepper
Friday. May 7th, 2021