Japan becomes largest importer of VNs shrimps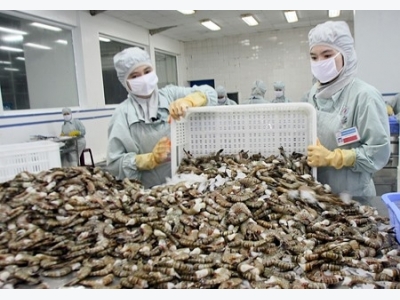 Publish date:
Tuesday. May 23rd, 2017
---
Việt Nam exported shrimp to 68 markets in the first quarter of 2017. — Photo vcci
HÀ NỘI — Japan has become the largest market for Vietnamese shrimps, accounting for 21.9 per cent of the country's shrimp export value in the first quarter of 2017.
The Việt Nam Association of Seafood Exporters and Producers (VASEP) reported that in the first three months of this year, Việt Nam's shrimp exports to Japan reached US$135.4 million, a year-on-year increase of 29.6 per cent. The significant growth is because of the rise of the yen, which has encouraged Japanese enterprises to move to imported shrimp.
Also, Japanese consumers tend to switch to cheaper seafood, which has increased the demand for shrimp as they are more affordable than other seafood such as tuna, salmon and squid.
In the high-end market segment, the demand for giant tiger prawns and shrimps with head on is also rising.
Earlier this year, the average price of Vietnamese shrimp exported to Japan was $12 per kilo, while Indonesia's rate was $11 and Thailand's $10.
Although Việt Nam's average price is higher than that of competitors in the region, exports to Japan saw significant growth, higher than both Thailand (13.9 per cent) and Indonesia (2.4 per cent).
The VASEP said that in the first quarter of 2017, Việt Nam exported shrimp to 68 markets. The top 10 markets include Japan, EU, US, China, South Korea, Canada, Australia, ASEAN, Taiwan and Switzerland, which together account for 95.4 per cent of Việt Nam's shrimp exports.
There is a change in the position of the top 10 shrimp importers, with Japan replacing the US to become the largest importer, the EU holding its previous position at No 2, and the US taking the third position.
---
Related news

Catfish segment seeks to regain market share in the EU
Vietnamese farm raised pangasius catfish sales in the European Union have hit troubled waters in recent months following the airing of a damaging Spanish exposé
Tuesday. May 23rd, 2017

Shrimp aids climate change battle in VN
Rising sea levels have exacerbated saline intrusion and coastal erosion in Vietnam, but farmers can make the best out of a bad situation by shifting
Tuesday. May 23rd, 2017

Prospects and perils of pangasius exports to China
China has become a major, potential importer of Vietnamese pangasius and is expected to buy the shark catfish products worth US$300 million from Vietnam in 2017
Tuesday. May 23rd, 2017