Prospects and perils of pangasius exports to China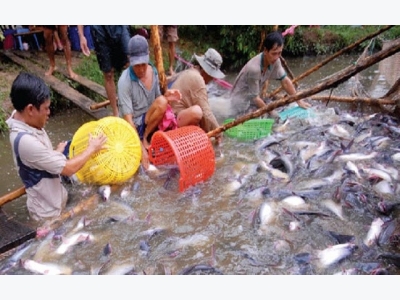 Author:
Mai Ca & Nguyen Phuong
Publish date:
Tuesday. May 23rd, 2017
---
China has become a major, potential importer of Vietnamese pangasius and is expected to buy the shark catfish products worth US$300 million from Vietnam in 2017.
According to the Vietnam Association of Seafood Exporters and Producers (VASEP), in the first two months of 2017, pangasius exports hit US$228.8 million, down four percent in value compared to the same period last year. But while pangasius exports to almost all markets decreased, sales to China (including Hong Kong) increased to reach more than US$38.9 million, accounting for over 17 percent of the total.
But the VASEP predicts pangasius for export production will probably decline this year due to insufficient supplies of baby pangasius.
Speaking to reporters on the sidelines of a recent pangasius seminar, secretary general of the VASEP, Truong Dinh Hoe, said that China has a big demand for pangasius products from Vietnam, and these exports to China are benefiting from favorable conditions.
Hoe said a number of Chinese companies have set up offices in Ho Chi Minh City to import pangasius products from Vietnam in accordance with international practices. This development raises expectations of stability in pangasius exports to China and investment to expand their scale. He forecast that pangasius exports to China could reach as much as US$300 million in 2017.
However, according to VASEP, pangasius exports to China are facing some obstacles related to that market's strict standards on food safety and hygiene. VASEP recommends that Vietnamese enterprises ensure all of their pangasius exports are of similar quality, with food safety and hygiene certifications.
Nguyen Thi Anh, director of the Song Tien Trading Co., Ltd (Sotico), said that while demand in EU and US markets has decreased, Chinese partners bought a large amount of the company's pangasius products. However, pangasius exports to China are risky because most of the products are exported through border trade and all of the deals totally depend on importers, Anh said. Therefore, Sotico is cautious in contract negotiation to avoid taking risks. She said that in 2017, 30 percent of the company's pangasius production output will be exported to China, with the remainder to be exported to other traditional markets.
A pangasius exporter representative from Dong Thap Province advised Vietnamese businesses to ensure strict payment provisions while negotiating export contracts with Chinese partners. He said that Vietnamese exporters should require payment via banks or letters of credit (L/C) or hard foreign currency payment.
---
Related news

Vietnam seafood companies urged to invest in India
Smita Pant, Indian Consul General in HCMC, has called for seafood enterprises in the Mekong Delta province of An Giang to sound out business opportunities
Tuesday. May 23rd, 2017

Catfish segment seeks to regain market share in the EU
Vietnamese farm raised pangasius catfish sales in the European Union have hit troubled waters in recent months following the airing of a damaging Spanish exposé
Tuesday. May 23rd, 2017

Shrimp aids climate change battle in VN
Rising sea levels have exacerbated saline intrusion and coastal erosion in Vietnam, but farmers can make the best out of a bad situation by shifting
Tuesday. May 23rd, 2017