How to tap domestic seafood market potential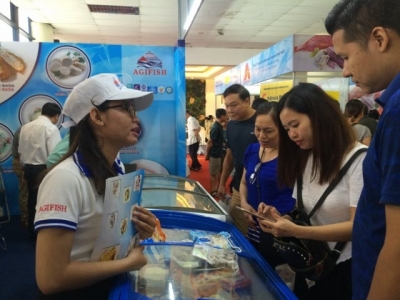 Publish date:
Monday. October 30th, 2017
---
To tap the great potential of the domestic seafood market, the state needs to apply incentive policies to assist seafood-processing facilities in promoting sales
A recent tra fish and Vietnamese seafood products fair attracted many consumers in Hanoi.
Potential market
At a recent workshop held in Hanoi on promoting domestic seafood sales, Tran Cong Khoi, Deputy Director of the Directorate of Fisheries' Department of Aquaculture, said the seafood sector has developed rapidly, holding an important position in the national economy. Vietnam has become the world's fourth largest seafood exporter, in terms of both volume and value. Vietnam exports seafood to 164 countries and territories, with value growing 7-10 percent annually and reaching US$7.05 billion in 2016.
Apart from 567 industrial facilities processing seafood for export, Vietnam also has about 4,000 smaller and household-sized facilities and villages specializing in processing seafood for domestic sale, with 40,000 workers. Their products have contributed to diversifying food for more than 92 million Vietnamese people and stabilizing food prices in the domestic market. Domestic sales also help the seafood sector maintain production when it faces export shortfalls.
According to Tran Cong Khoi, per-capita seafood consumption in Vietnam reached 27kg in 2016 and are predicted to grow to 28-30kg by 2020. Domestic sales of seafood are expected to increase due to rising incomes and the migration of more rural residents to urban areas. However, in the opinion of experts, domestic sales of seafood still face difficulties. Specifically, it remains difficult for seafood businesses to access the government's investment incentives; the management of domestic sales of seafood often overlaps; processing facilities remain poor, making product quality low and unstable; and the supply of raw materials is still limited.
Vo Thi Thu Huong from the Vietnam Pangasius Association said most Vietnamese consumers still tend to buy unpackaged fresh seafood products, unlike developed countries, where consumers buy frozen seafood with packaging providing clear information about product origins.
Changing consumer habits
Most workshop participants agreed that campaigns should promote domestic sales of seafood, especially to encourage Vietnamese consumers to buy frozen seafood. This will enable processing facilities to maintain and expand operations and promote sales. At the same time, it is necessary to invest in upgrading processing facilities to create suitable products for sale in different market segments to serve low-end, middle-class and high-end consumers. Seafood businesses should cooperate to build a domestic distribution network. The management of domestic sales of seafood in terms of quality and food safety should be tightened. Ministries, departments and sectors should assist seafood businesses in seeking suitable materials and applying new processing techniques to diversify products. Businesses also need support in worker training, as well as in trade promotion activities.
Visiting a recent fair organized by the Ministry of Agriculture and Rural Development to introduce pangasius (tra fish) products and other kinds of Vietnamese seafood, Deputy Prime Minister Trinh Dinh Dung said the government is concentrating on providing guidance for restructuring agricultural production according to market demand. Businesses need to ensure equal quality of export products and those made for domestic sale. Domestic consumers must be provided with the best products of domestic companies. "Tra fish and other kinds of Vietnamese seafood are delicious and will surely attract a lot of housewives. However, these products remain unpopular in the north. I believe businesses will succeed in efforts to promote sales to northern consumers," Deputy Prime Minister Dung said.
He added that the government would assign the Ministry of Agriculture and Rural Development to promote aquaculture, as well as the processing of tra fish and other kinds of seafood. The Ministry of Industry and Trade is responsible for assisting businesses in promoting exports and domestic sales. "Along with maintaining exports to traditional markets, businesses should seek access to new markets. At the same time, the domestic sales network should be reorganized to ensure that tra fish and seafood, in particular, and agricultural products, in general, can reach consumers nationwide," he said.
The government will also ask the Ministry of Science and Technology to assist businesses in meeting importer requirements in terms of quality and other standards. For their part, the deputy prime minister said, businesses should continue applying modern processing technology and intensifying marketing and trade promotion activities to increase sales.
The agricultural sector needs to promote domestic sales and reorganize production to ensure that consumers can buy high quality domestic seafood products in the home market.
---
Related news

U.S. to make decision on fish imports from Vietnam next year
The U.S. may make a final decision in March next year on whether it will continue importing tra fish (Pangasius) from Vietnam or not
Saturday. October 28th, 2017

Viet Nam aquaculture trade show opens new doors
In response to increasing aquaculture production and rising demand worldwide for safe and high-quality seafood products.
Monday. October 30th, 2017

Can Tho, Brazil's Maranhao state partner in rice production, aquaculture
Authorities of the Mekong city of Can Tho and Brazil's Maranhao state on October 26 signed a letter of intent to set up friendship and cooperation in rice
Monday. October 30th, 2017