Viet Nam aquaculture trade show opens new doors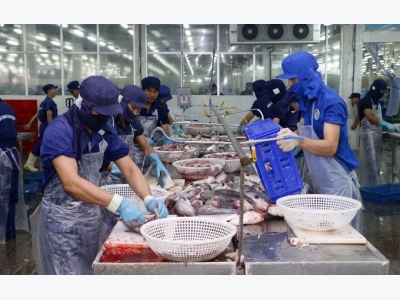 Publish date:
Monday. October 30th, 2017
---
Tra fish processed at Biển Đông Seafood Company in Cần Thơ Province. The 2017 Aquaculture Vietnam Exhibition and Conference opened yesterday to promote high-tech aquaculture production. – VNA/VNS Photo Thanh Liêm
CẦN THƠ — The 2017 Aquaculture Vietnam Exhibition and Conference (Aquaculture Vietnam) opened yesterday in Cần Thơ City, in response to increasing aquaculture production and rising demand worldwide for safe and high-quality seafood products.
Đào Anh Dũng, vice chairman of Cần Thơ City's People's Committee, stated at the conference yesterday that despite immense growth opportunities, the nation's aquaculture industry still suffers from some setbacks in terms of diseases, regressions and climate change.
Therefore, the need for technological transfers, scientific breakthroughs and high-tech innovations in aqua-farming is urgent and evident for Việt Nam's seafood production to improve its value addition and integrated production chain towards international standards, he concluded.
This year's conference hopes to provide an international business and education platform, focusing on technologies, innovations and solutions for aquaculture farming in Việt Nam, covering key exports such as shrimps and catfish, especially in the Mekong Delta region.
The conference continues until October 27, featuring concurrent speeches and panel discussions by aquaculture experts from research institutions and companies in Việt Nam and other countries.
Some notable topics of discussion during this year's Aquaculture Vietnam expo include the development of a seafood value chain, export potential for Vietnamese catfish and addressing corporate social responsibility within the domestic aquaculture industry.
Võ Hùng Dũng, vice president of the Vietnam Pangasius Association, said at the conference he believed it was a crucial promotion opportunity to introduce new practical technologies to farmers and showcase a thriving domestic aquaculture market.
Agreeing with Dũng, Sylvain Paul Lacladere, Bayer Vietnam Ltd.'s country head of animal health, expressed his hope to provide the best solutions for disease control in aqua-farming, as well as to discuss possible cooperation with Vietnamese aquaculture industry professionals at 2017 Aquaculture Vietnam.
Hosted by the Directorate of Fisheries (DoF) under the Ministry of Agriculture and Rural Development (MARD), 2017 Aquaculture Vietnam is being held at the Cần Thơ International Exhibition Fair Centre. It is one of the country's most important trade shows and an international meeting place for 70 exhibitors and hundreds of representatives from the aquaculture industry in the region and across the globe.
Aquaculture is considered a spearhead industry for Việt Nam's economy, with annual export turnover reaching billions of US dollars, generating millions of employment opportunities and contributing to stabilising the national socio-economic scene.
Trần Đình Luân, deputy director of DoF, commented that the country should invest more heavily in technological development, advanced production and management methods to improve productivity, quality and sanitation in the aqua-farming process.
According to Luân, the aquaculture industry is clearly important in establishing the country's name and image in the world market.
Data from MARD shows that in 2016, Vietnamese seafood export turnover increased by 7.4 per cent from 2015, reaching US$7.05 billion and accounting for 24 per cent of national agricultural related exports.
By the third quarter of 2017 alone, total output for the aquaculture industry was four million tonnes, increasing four per cent from the same period last year.
The Mekong Delta region is home to 52 per cent of total seafood and 67 per cent of total farmed aquaculture products, clocking in at 65 per cent total exported value. Cần Thơ, in particular, is the chief producer of seafood with total output of 199,817 tonnes in 2016.
---
Related news

Can Tho forum introduces new technologies in aquaculture
More than 70 domestic and foreign exhibitors are presenting their products at the International Vietnam Aquaculture Expo and Forum 2017
Saturday. October 28th, 2017

High quality breeds needed to build sustainable tra fish industry
Experts said that poor quality strains of the fish have seriously affected the volume produced and harmed the economic efficiency of farming areas
Saturday. October 28th, 2017

U.S. to make decision on fish imports from Vietnam next year
The U.S. may make a final decision in March next year on whether it will continue importing tra fish (Pangasius) from Vietnam or not
Saturday. October 28th, 2017