Everything you need to know about EMS in shrimp farming - Part 1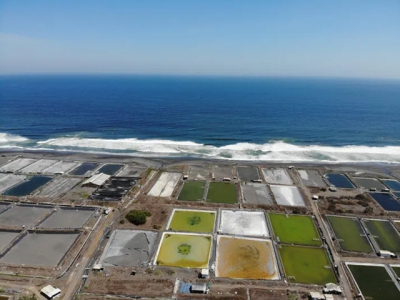 Publish date:
Wednesday. February 3rd, 2021
---
Advice on how to avoid major shrimp losses from early mortality syndrome (EMS) – one of the most devastating diseases to hit shrimp aquaculture in the last decade.
An aerial view of shrimp ponds. Photo: Alune
In 2018, the FAO reported that world aquaculture production reached an all-time high of 114.5 million tonnes, worth $263.6 billion of farmgate sales. Crustacean production was 9.4 million tonnes, valued at $69.3 billion – 52.9 percent of which comes from Pacific whiteleg shrimp (Litopenaeus vannamei).
As aquaculture grows and the industry seeks stability to support sustained growth, the prevention, forecasting and management of disease is more relevant than ever. One of the most complex diseases in shrimp aquaculture, especially L. vannamei culture, is early mortality syndrome (EMS), which is also known as acute hepatopancreatic necrosis disease (AHPND).
Since its discovery in 2009, EMS/AHPND has been one of the main challenges in shrimp aquaculture. After it was detected in China, EMS has spread to multiple countries in southeast Asia. Due to its high mortality rate, many shrimp producing countries affected with EMS/AHPND have experienced a considerable reduction in production and export sales.
This article will delve deep to explore what EMS/AHPND is, the damage it causes and the various measures to prevent and combat EMS outbreaks.
What is EMS/AHPND?
In 2009, there was a serious disease outbreak which caused high shrimp mortalities of L. vannamei and P. monodon in southern China. Researchers initially called this disease early mortality syndrome (EMS) or acute hepatopancreatic necrosis syndrome (AHPNS). By 2010, more farms in China were affected and, in 2011, EMS/AHPNS was detected in Vietnam and Malaysia. The disease was also confirmed in Thailand in 2012.
Researchers were initially baffled by the cause of EMS/AHPNS. There were some hypotheses, such as environmental toxins and infectious agents, but studies in these areas failed.
Picture 1. Juvenile L. vannamei showing gross sign of EMS/AHPND. Photo: Prof. D.V. Lightner
The puzzle was solved in 2013 by Loc Tran and his team's breakthrough discovery that it was caused by a strain of bacterium, Vibrio parahaemolyticus, which are ubiquitous in culture water. With a better knowledge of the infectious agent, a proper name for EMS/AHPNS was suggested, namely acute hepatopancreatic necrosis disease (AHPND).
AHPND infects juveniles or post-larvae (PL) L. vannamei and P. monodon, with 100 percent mortality rate within 10 to 35 days after stocking. The bacteria V. parahaemolyticus, which is naturally found in coastal and estuarine waters and causes EMS/AHPND, contains two toxic genes – Pir A and Pir B. Non-V. Parahaemolyticus such as V. campbellii, V. harveyi, V. owensii, and V. punensis are also found to contain the toxic genes and may cause EMS/AHPND. Under low biosecurity regimes, the bacteria can easily spread between ponds and neighbouring farms via water effluent.
EMS/AHPND can be detected by looking at the physical signs of shrimp, including pale, shrunken or atrophied hepatopancreas, soft shells, and partially full to consistently empty guts. However, to confirm the disease, a histological examination in the laboratory is required. In the acute phase, shrimp infected with AHPND will show sloughing of tubule epithelial cells in the hepatopancreas, as shown in Picture 2.
Picture 2. Sloughing of tubule epithelial cells in the hepatopancreas in juvenile L. vannamei. Photo: Prof. D.V. Lightner
Hatcheries are one of the main sources of EMS/AHPND – spreading the disease through infected PL, which may cause an outbreak as early as 14 days after stocking. The disease can also spread via cross-contamination – where the pathogen enters ponds through equipment, shoes/feet, birds or crabs – or if it was not removed from the pond's previous production cycle. The shrimp are more susceptible to infection under certain environmental conditions which promote bacteria proliferation. These factors include:
High level of nutrients in pond water from the addition of fertilisers or molasses.
Water with high temperature, salinity of >5 ppt, and pH of >7.
Poor water circulation and low plankton biodiversity.
Build-up of organic sediments, such as unconsumed feed and shrimp carcasses.
---
Related news

Top 10 tips for shrimp farming – the basics - Part 1
Shrimp farming isn't easy - but getting the basics right can keep your ponds productive and disease-free.
Tuesday. February 2nd, 2021

Top 10 tips for shrimp farming – the basics - Part 2
Sampling allows farmers to understand shrimp growth and adjust the feed regime, preventing overfeeding and underfeeding
Tuesday. February 2nd, 2021

Everything you need to know about EMS in shrimp farming - Part 2
Since the outbreak of EMS/AHPND in 2012, Thai shrimp production has experienced a significant loss. Total production fell by 54 percent between 2009 and 2014
Wednesday. February 3rd, 2021