Dak Lak rural enterprises wake up and smell the coffee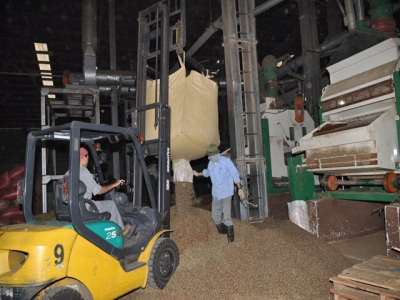 Publish date:
Wednesday. September 23rd, 2020
---
Dak Lak Province has greatly modernized its rural production with the support in both human and material resources of national and local industry promotion budgets.
Dak Lak mobilizes both human and material resources to modernize rural industrial production
In order to meet the domestic market and export demand, the An Thai Investment and Development Joint Stock Company has invested in a coffee deep-processing machinery and equipment system with a capacity of 1,500-2,000 tonnes per year. The new equipment has launched a new line of black instant coffee products, including 3 in 1 and 2 in 1 blend instant coffee. In order to reduce the cost burden on the national industry promotion funding source, the Dak Lak Industry Promotion and Development Consultancy Center has provided VND300 million in support for the company.
According to the An Thai Investment and Development Joint Stock Company, the new equipment not only contributed to improving the productivity and quality of post-processed products and meeting domestic and export market standards, but also has helped it take advantage of locally available materials, save fuel and meet cleaner production goals.
From 2014 to 2020, Dak Lak has implemented 62 industry promotion projects for the application of advanced machines and equipment in industrial production. National industry promotion funding has supported five projects with a total budget of VND1.02 billion; local industry promotion has implemented 57 projects with a total budget of nearly VND5.61 billion.
According to the provincial Department of Industry and Trade's assessment, the projects have helped rural industrial enterprises increase sales and product value as well as create more jobs. The projects focus on key fields and industries of the province, such as processing agricultural products, fine art sculptures, processing construction materials, thereby significantly reducing the cost of raw materials and human resource training.
However, most Dak Lak rural industrial establishments are small and super-small, with slow, antiquated production methods geared primarily to serve the needs of local consumers. Due to their limited financial and administrative capacity, many enterprises are ineligible for industry promotion policies.
To solve the funding problem in the orientation of industry promotion activities in the 2021-2025 period, the Department of Industry and Trade will mobilize all resources for investment in rural industrial production, especially the processing of farm produce and forestry products, as well as agriculture mechanization. It will also encourage rural industrial enterprises to boldly invest in the application of advanced machinery and equipment, both modernizing production and increasing the benefits of industry promotion policies.
In order to realize the orientation, the Dak Lak Department of Industry and Trade has proposed that ministries and branches study and simplify administrative procedures in planning and implementing projects.
In the 2021-2025 period, Dak Lak industry promotion expects to support the building of five technical demonstration models; transfer and apply advanced and modern equipment for 100 rural industrial establishments, and advise on application of cleaner production for 40 establishments.
---
Related news

Bến Tre to solicit investment in hi-tech agriculture
The Cửu Long (Mekong) Delta province of Bến Tre will offer incentives to attract investments in hi-tech agriculture and in projects with high value-addition
Wednesday. September 23rd, 2020

Retired soldier gets rich from macadamia trees
Veteran Phạm Hữu Đương is busy all day in the garden to look after 8ha of crops that are bringing high profits to his family as well as creating jobs for dozens
Wednesday. September 23rd, 2020

Improved quality and higher demand boost Vietnam rice export outlook
In the first half of this year, rice export value jumped 18.6% year-on-year to US$1.71 billion.
Wednesday. September 23rd, 2020