Asia coffee prices hit near 2-1/2-year low in Vietnam; trade thin in Indonesia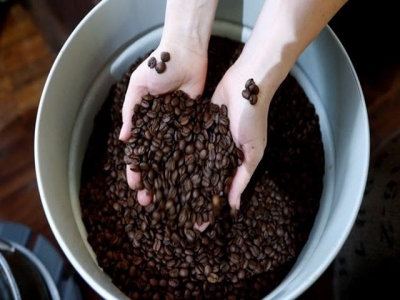 Publish date:
Tuesday. October 2nd, 2018
---
Vietnamese farmers offer coffee at around 32,500 dong-33,300 dong ($1.39-$1.43) per kg on April 6, the lowest since April 2016. Photo by Reuters
Coffee prices in Vietnam hit their lowest in nearly 2-1/2 years following global cues, traders said on Thursday.
Farmers in Vietnam, the world's second-biggest coffee producer after Brazil, offered coffee at around 32,500 dong-33,300 dong ($1.39-$1.43) per kg in the province of Daklak, the lowest since April 2016, traders said.
International markets recovered slightly on Wednesday but prices are still unattractively low, said Phan Hung Anh, deputy director of Anh Minh Co, a coffee-trading firm in Daklak province, Vietnam's major coffee growing area.
November robusta coffee settled up $26, or 1.8 percent, at $1,501 per tonne on Wednesday. The second-month contract had slumped to a 2-1/2-year low of $1,465 on Tuesday.
Exporters offered Vietnam's 5 percent black and broken grade 2 robusta at $40-$70 discount to London's November contract, while importers sought a $60-$70 discount, traders said.
Traders expected coffee exports this month to dip to 90,000 tonnes-120,000 tonnes from 135,000 tonnes in August, citing low prices and as Vietnam is heading towards the end of its crop season. The 2018/2019 crop season starts in October.
In Indonesia, premiums for the grade 4 defect 80 robusta in the province of Lampung were at $90 to the November contract or $130-US$140 to the January contract, traders said. Last week, premiums were at $100 to the November contract.
"Prices are already stable, and this is predicted to continue for the next two weeks," one coffee trader told Reuters, adding trade was thin as harvest would end this month.
Another trader said harvest was almost over in some areas like Bengkulu and Talang Padang, and Palembang.
Indonesia exported 11,633.8 tonnes of robusta coffee beans from the Lampung province in August, down 67 percent from the same month last year, government data showed.
---
Related news

Land regrouping in Hanoi suburbs benefits farmers
After 10 years of administrative boundary adjustments, Hanoi's suburban districts are benefiting from positive changes in socioeconomic development
Monday. October 1st, 2018

Japanese businesses seek hi-tech agriculture opportunities
The Japan External Trade Organistion (JETRO) on Wednesday held a conference to connect Japanese enterprises with Vietnamese businesses in the field of hi-tech
Monday. October 1st, 2018

Bright prospect predicted for rice exports in Q4
Vietnamese rice exports are expected to revive in the last quarter of the year following four months of stagnation boosted by new purchase demand in some market
Tuesday. October 2nd, 2018