Japanese businesses seek hi-tech agriculture opportunities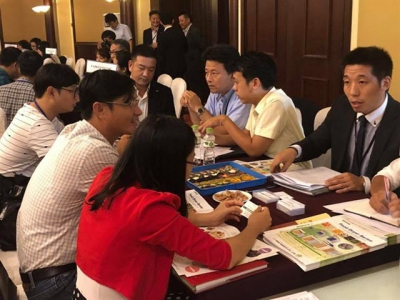 Publish date:
Monday. October 1st, 2018
---
Attendees at the JETRO conference on hi-tech agriculture held in Hà Nội on Wednesday. — VNS Photo Thu Giang
HÀ NỘI — The Japan External Trade Organistion (JETRO) on Wednesday held a conference to connect Japanese enterprises with Vietnamese businesses in the field of hi-tech agriculture in Hà Nội.
Speaking at the event, chief representative of JETRO in Hà Nội Hironobu Kitagawa said hi-tech agriculture was a new area in Việt Nam, involving the application of other sectors such as engineering and technology.
"Japanese enterprises enter Việt Nam with two goals. Firstly, they want to invest in developing the country's agriculture. Secondly they expect to export hi-tech innovations to Việt Nam," said Kitagawa.
This conference does not focus on normal agricultural products, but more importantly creates added value for production from raw materials to finished products circulated in the market, he added.
Kitagawa said he appreciated the capacity of Vietnamese businesses in adopting Japanese technology, however, he said that such innovations changed every day and developed rapidly, therefore Vietnamese businesses needed to catch up with the changes and update their advanced technologies.
Attending the conference were 14 Japanese businesses introducing agricultural materials, chemical products, organic products, fertilisers and machinery, and tens of Vietnamese enterprises who wanted to seek partners to develop their business.
Nguyễn Thanh Mộng, sub-manager of Sirumachi Vietnam, a member of Sirumachi Japan specialising in agricultural software, said the group was well-known in Japan for accounting software in co-operatives and its 'Facefarm' production diary. He expected to transfer the software to Vietnamese farmers.
He said over 80 per cent of land in Việt Nam was used for agriculture, however the country did not yet have effective management software. "Our software can help farmers set up growing plans and pesticide solutions. For example, it will help them know which plants are suitable for which pesticides and the frequency to use chemicals," he said.
"We expect to get access to the State's pesticide database so that we can classify and apply Facefarm software for each kind of pesticide on every plant."
According to the Ministry of Agriculture and Rural Development, Việt Nam plans to have 500 hi-tech agricultural cooperatives and increase high-tech farming production value by five times by 2020. Each province and city would have at least three hi-tech agricultural co-operatives.
The average income from hi-tech farming products is expected to be three times higher than products which do not apply technology during cultivation, from the current 1.5 times.
Many experts say that there is a need for a broader perspective with new directions for developing smart agriculture, especially in the context of the fourth industrial revolution that has clearly had a positive impact on all fields of social life
---
Related news

Export price of Vietnamese pepper down 62 per cent
The average export price of Vietnamese pepper fell by 62 per cent year-on-year in the first eight months of 2018 to around US$3,330 per tonne following
Saturday. September 29th, 2018

Rice exports to follow strong upward trend
Vietnam's rice exports are likely to continue their vigorous growth in the late months of the year as the demand from China, the Republic of Korea (RoK)
Saturday. September 29th, 2018

Land regrouping in Hanoi suburbs benefits farmers
After 10 years of administrative boundary adjustments, Hanoi's suburban districts are benefiting from positive changes in socioeconomic development
Monday. October 1st, 2018