Vietnamese seafood imports to Russia spike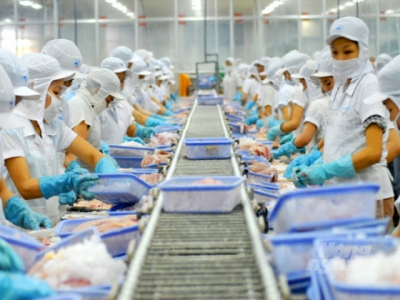 Author:
Son Trang - Translated by Linh Linh
Publish date:
Monday. February 14th, 2022
---
This year, Russia encourages seafood imports, with Vietnamese seafood imports increasing in both volume and value.
Vietnam is the fifth largest seafood supplier to Russia in terms of volume. Photo: Le Hoang Vu
According to the International Trade Center (ITC), Russia imported 481.8 thousand tons of seafood worth USD 1.77 billion in the first nine months of 2021, up 23.1 percent in volume and 29.9 percent in value year on year.
Between January and September 2021, the Faroe Islands, Belarus, Chile, China, and Vietnam were Russia's leading seafood suppliers in terms of volume.
Russia's seafood imports from Vietnam surged by 79.8% in volume and 67.3 percent in value in the first nine months of 2021, hitting 37,000 tons worth USD130.8 million.
Vietnam's volume-based seafood market share in Russia climbed from 5.26 percent in the first nine months of 2020 to 7.68 percent in the first nine months of 2021. The market share of the majority of Vietnam's seafood goods in total Russian imports grew in 2020 compared to the previous year.
The Vietnam-EAEU Agreement provides advantageous tariff treatment for a variety of Vietnamese seafood goods in comparison to rivals.
Vietnam is entitled to a 0% tax rate on the two most major export product codes, other frozen fish flesh (excluding fillets) (HS 030499) and frozen shrimp (HS 030617), while the MFN tax is 5% (but not less than 0.1 euro per kilogram) and the preferential tax for GSP nations is 3.75 percent.
According to the Agency of Foreign Trade (Ministry of Industry and Trade), Vietnam's seafood goods are more competitive in the Russian market as a result of tax benefits under the Vietnam-EAEU Agreement.
However, Vietnam's seafood market share in Russia's total imports rose slowly as a result of Russia's severe non-tariff (technical) obstacles and the limited number of seafood firms authorized to export to the Russian market. There are limited owing to the Russian side's difficult registration procedure, the lengthy approval process...
At the moment, Russia has permitted just 50 Vietnamese companies to export seafood to the market, out of a total of 172 Vietnamese companies that have requested registration with Russia.
---
Related news

What do shrimp farmers expect in each crop?
Higher price for big-sized shrimps is only a necessary condition to achieve maximum profit.
Friday. February 11th, 2022

Tuna businesses redirected to the Middle East market
The stable growth rate of the Middle East market in terms of Vietnam's tuna exports has gathered the attention of many tuna businesses.
Saturday. February 12th, 2022

Shrimp farming holds numerous chances for recovery
There are now many favourable conditions for shrimp export, including growing prices - an important factor for processors and exporters to swiftly
Saturday. February 12th, 2022